Updated July 03 2017
FOREST CITY, N.C.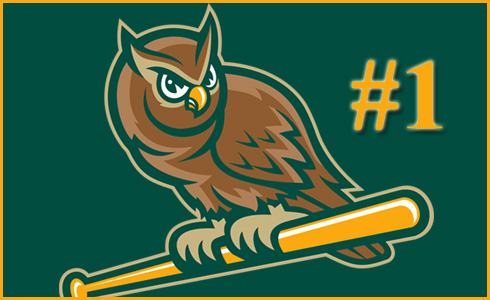 Forest City hosted the Asheboro Copperheads (12-18, 1-1) on Monday evening at McNair Field. On Sunday, the Copperheads engulfed the Owls in Asheboro, defeating Forest City 10-1.
The Owls (20-9, 1-1) looked to bounce back from the loss in front of one of their largest crowds of the summer.
On the mound, Forest City looked to starting pitcher Alec Bivins (Mars Hill) Bivins, who will represent Forest City in Holly Springs at the All Star Game next Monday. He was magnificent for the Owls.
Bivins improved his record to 4-0 on the year, tossing five innings, giving up no runs and four hits, while striking out nine Copperhead batters.
In the 3rd, Forest City broke through the scoreless tie to take a 3-0 lead. With the bases loaded and two outs, AJ Wright (UMBC) cleared the bases on a three RBI double to put the Owls on top.
It would prove to be a huge moment in the contest, as rain began to pelt the field the following inning.
The game continued as long as it could, but was ultimately put into a rain delay in the bottom of the 5th.
After about 45 minutes, the game was called off, but since the contest had reached the 5th inning, it would qualify as a full game in the CPL. Therefore, Forest City was declared the winner, with the final score being 3-0.
Forest City returns to action tomorrow to take on the Martinsville Mustangs at McNair Field. First pitch is scheduled for 7:05 p.m. and you can listen to coverage of the game live on the Forest City Owls Radio Network.
To find out more about 2017 Owls Season Tickets, please contact the Owls Office at 828-245-0000 or visit the website at www.forestcitybaseball.com.
The Coastal Plain League is the nation's premier summer collegiate baseball league. Celebrating its 22nd season in 2018, the CPL features 16 teams playing in Georgia, North Carolina, South Carolina and Virginia. The CPL has had over 1,450 alumni drafted and 111 of those – including 2011 AL MVP and Cy Young winner Justin Verlander – make their Major League debut; while another notable alum – Russell Wilson – won Super Bowl XLVIII. For more information on the Coastal Plain League, please visit the league website at www.coastalplain.com and follow us via Facebook, Twitter, Instagram and Snapchat @CPLBaseball..
Contact:
Zachary Penrice
Phone:
828-245-0000