Updated June 28 2017
SAVANNAH, G.A.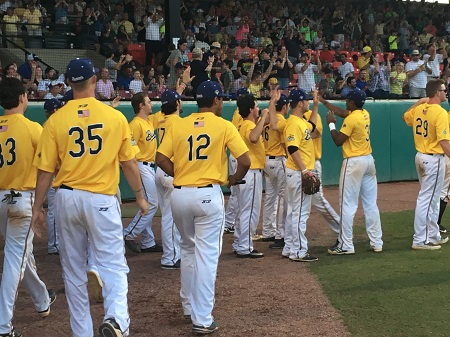 In front of two sold out crowds, the Bananas swept the RedWolves 5-2 in game one and 4-2 in the nightcap.
In game one, a Super Splash Day crowd of 4,010 kids watched as Jakob Nunez (UTA) and Utah Jones (UNC) drove in key RBIs for the Bananas.
In the fourth inning of game one Jacob Southern (Jacksonville University) hit a single followed by Jones blasting a double to tie the game at two. Nunez was next with another single, bringing Jones in to put the Bananas in the lead 3-2.
The Bananas shut out the RedWolves for the remainder of the game, while Nunez drove in two more to bring the final score to 5-2.
A crowd of 4,177 arrived for the nightcap to take in a second dose of potassium with the Bananas winning 4-2. This marked the twelfth straight sell out to open the season for the Bananas.
The Bananas took the lead early in the second inning with RBIs from both Jones and Christian Hollie (UTA). In the sixth inning, Southern played hero, driving in two runs with a broken bat single over the third baseman's head. This was all Kenny La Pierre (San Diego State) needed as he closed out a complete game effort and bumped his record to 2-0.
The sweep today marks the Bananas' fifth straight win against the RedWolves (13-11). The Bananas, now 12-13, have won six straight games at home.
The Bananas will face the RedWolves again tomorrow in Florence. They will be back home again to face the Lexington County Blowfish in front of another sold out crowd on Friday, June 30th. Don't miss your chance to catch the fun, tickets are available for our July 6th game, featuring Thirsty Thursday beer specials from Budweiser. Tickets can be purchased at www.thesavannahbananas.com or by calling 912-712-2482.
The Coastal Plain League is the nation's premier summer collegiate baseball league. Celebrating its 22nd season in 2018, the CPL features 16 teams playing in Georgia, North Carolina, South Carolina and Virginia. The CPL has had over 1,450 alumni drafted and 111 of those – including 2011 AL MVP and Cy Young winner Justin Verlander – make their Major League debut; while another notable alum – Russell Wilson – won Super Bowl XLVIII. For more information on the Coastal Plain League, please visit the league website at www.coastalplain.com and follow us via Facebook, Twitter, Instagram and Snapchat @CPLBaseball..
Contact:
Liz Bushaw
Phone:
912-712-2482