Updated July 21 2017
WILSON, N.C.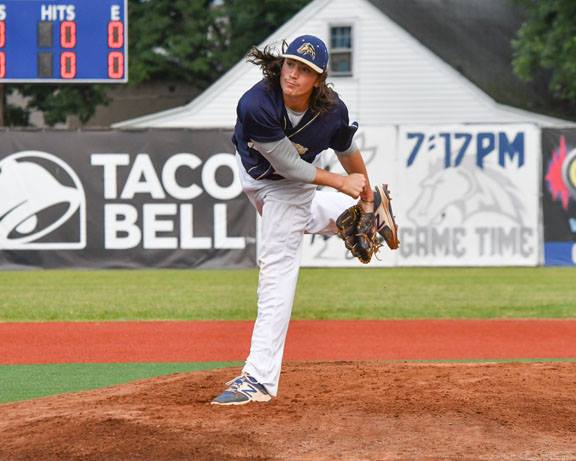 After a 7-3 win over Asheboro the night before, Martinsville traveled to Wilson for their only meeting with the Tobs on Thursday. After falling behind in the first inning, the Mustangs scored the next 15 runs to win 15-3.
Josh Vincent made his final start of the summer for the Mustangs. With a man on first, Shane Shepard doubled to open the scoring. An RBI single by Josh Ladowski made it 2-0 but Vincent would settle in from there.
Mustangs Pitching Coach Ryan Vruggink talked about the early struggled for Vincent.
"He just left a few pitches up and they made him pay for it. Things kind of compounded on him but he settled in nicely after that," he said.
Wilson gave the ball to the freshman out of Liberty University, Casey Williams. In the second inning Williams walked the first two hitters before Emilio Abreu lifted a sacrifice fly into right. Kyle Wilkie scored and the Mustangs were within a run.
Vincent got some help from his defense in the third inning. Mustangs left-fielder Matt Dunlevy made a sliding catch to rob Roberto Rivera of a hit and then Matt Berler took a hit away with a diving stop at shortstop.
Vincent talked about settling in after a tough start.
"In the third inning I really found my fastball and all my pitches," Vincent said. "I think my fastball was my best pitch when I spotted it on the low and away corner. I was just going up smooth and once I was up top I just whipped it as fast as I could," he said.
The Mustangs played error-free baseball but Wilson struggled in the fourth and fifth.
Dunlevy led the fourth off with a single and advanced to second on a sacrifice by Marshall Gei. Dunlevy went 4-5 with two RBIs. He talked about his hot start after the game.
"My mindset has been to see good pitches and get quality at bats," he said. "I haven't been playing for a while so I just have to get my eye on the ball."
Mustangs Head Coach Danny Higginbotham talked about what Dunlevy brings to the offense.
"He battles and puts the ball in play," he said. "He makes them get him out. That's something our lineup needed is a guy that's not trying to hit the ball out of the ballpark. He's just trying to hit the ball on a line."

With Abreu at the plate, Williams uncorked a wild pitch that allowed Dunlevy to take third. The Tobs catcher Hunter Gore threw to third but his throw went into left field and Dunlevy scored to tie the game.
The defensive woes continued in the fifth for Wilson. Berler led off with an infield single and advanced to second on a throwing error by the shortstop. Josh Smith was next and he laid a bun down that the third baseman Jake Holtzapple threw away and Smith ended up on third. Berler scored and Martinsville led 3-2.
Zach Weatherford was next and with two strikes he was able to lift a sacrifice fly into center that scored Smith. Later in the inning with a man on Wilkie doubled to make it 5-2. Dunlevy capped the inning off with an RBI single and the Mustangs led 6-2. Williams (2-4) finished with 4.1 innings. He allowed six runs but only three were earned.
Martinsville forced nine walks in the game and two of those led off the sixth inning. The Mustangs were able to take advantage with a two-run double by Weatherford, making it 8-2. He finished 2-5 with three RBIs.
The pitching staff for Wilson walked two more Mustangs in the seventh. An RBI single from Berler and an RBI double from Smith made it 10-2. The top of the order finished 7-15 on the night.
Vincent seemed to get stronger as the game moved along. He faced the minimum over the final three innings and finished with four strikeouts over even innings. Vincent (3-2) finished his summer with an ERA of 2.91. He talked about his experience in the Coastal Plain League after the game.
"I met a lot of great people and learned a lot of new things that I had never even heard of before…playing with kids from California, Texas, and everywhere else. It was a great learning experience and the coaches were good to," Vincent said.
"He was really competitive with every pitch tonight," Vruggink said. "He was in the zone and that was probably the best he's been all season with that. Even late he still had velocity and was down in the zone."
Martinsville added five more runs over the last two innings and went on to win 15-3. The Mustangs pounded out 15 hits in the ball game.
The Mustangs improve to 17-25 while Wilson fell to 12-27.
The Mustangs will host Forest City tonight at 7:15. It will be Bark in the Park Night at Hooker Field.
The Coastal Plain League is the nation's premier summer collegiate baseball league. Celebrating its 22nd season in 2018, the CPL features 16 teams playing in Georgia, North Carolina, South Carolina and Virginia. The CPL has had over 1,450 alumni drafted and 111 of those – including 2011 AL MVP and Cy Young winner Justin Verlander – make their Major League debut; while another notable alum – Russell Wilson – won Super Bowl XLVIII. For more information on the Coastal Plain League, please visit the league website at www.coastalplain.com and follow us via Facebook, Twitter, Instagram and Snapchat @CPLBaseball..
Contact:
Nathan Loprete
Phone:
5404244426