Updated June 10 2017
HOLLY SPRINGS, N.C.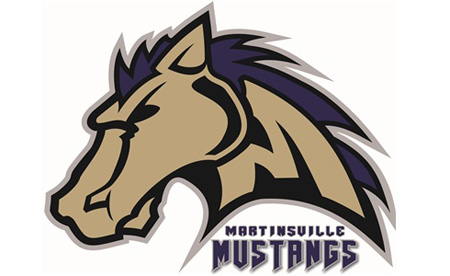 The Mustangs visited the Salamanders of Holly Springs on Friday night. In front of a packed house the Mustangs took a brief lead but fell behind early for the third straight game. As they did the first two nights, Martinsville rallied back to win, handing Holly Springs their third straight loss.

Holly Springs sent Jake Lee to the mound. The freshman from Georgia Tech gave up eight runs in his first start against the Mustangs and would fall behind early last night.

In the second, after an error put Josh Smith on first, Ryan Shinn stepped in and homered for the first time this season. Even though Shinn had been struggling a little to begin the year, Mustangs Head Coach Danny Higginbotham said he's been working hard and it was good to see him come through with a big hit.

"He came in early today and worked with Coach Soine a little bit," he said. "He's just got to slow things down and he just has to understand that things will turn around if he keeps working."

Tate Brawley, who was making his second start of the season for Martinsville got roughed up early but settled in to go five innings and give Martinsville a chance to comeback.

Holly Springs struck for four runs in the home half of the second. With a runner on first, Tripp Shelton homered to center and the game was tied. The Salamanders would score two more runs in the inning on three hits and go ahead 4-2.

Brawley settled in after that and kept Holly Springs off the board for the remainder of his outing. He finished with five innings on six hits and four earned runs. Brawley (2-0) struck out four and didn't walk a batter.

"Obviously they're a good team so it was good to see him bounce back after a rough start," Higginbotham said. "He just had really good stuff tonight. He kept the ball down, kept hitters off time, and the defense played really great behind him."

Holly Springs had to go to their bullpen in the third. Ben Gross shut down the Mustangs offense for three innings. In the sixth the Salamanders went to Chris Rodriguez and he struggled with his control as he walked the bases loaded.

Holly Springs went to Marcus McKoy (0-2) with one out in the inning and Keaton Weisz at the plate. The Mustangs shortstop who had been struggling early in the season turned on a fastball for a go-ahead grand slam.

"I've been trying to hit the ball hard," Weisz said. "I haven't played in a little bit and it's just good to be back on the field again. In the beginning of the count I was just trying to get a good pitch to hit and then the pitcher got to a 2-2 count and I just put a good swing on it."

The Mustangs weren't done in the inning. With one on, Davis Sims homered off the fence in right field and the Mustangs led 8-4.

Holly Springs rallied in the seventh for three runs but Isaac Hale came in to shut down the threat. Hale would work through the eighth after allowing a one-out double and then closed the ninth out with the tying run in scoring position again. The final score was 8-7.

Weisz talked about the Mustangs ability to get production throughout their lineup.

"We have some guys that can really hit on this team and our pitching can put us in ball games," he said. "If we play as a team I think we'll be a really good team by the end of the year."

Martinsville improved to 5-3 and Holly Springs fell to 3-6. Both teams will face off at Hooker Field on Saturday night. First pitch is at 7:15. It's also the Mustangs Star Wars and Fireworks Spectacular.
The Coastal Plain League is the nation's premier summer collegiate baseball league. Celebrating its 22nd season in 2018, the CPL features 16 teams playing in Georgia, North Carolina, South Carolina and Virginia. The CPL has had over 1,450 alumni drafted and 111 of those – including 2011 AL MVP and Cy Young winner Justin Verlander – make their Major League debut; while another notable alum – Russell Wilson – won Super Bowl XLVIII. For more information on the Coastal Plain League, please visit the league website at www.coastalplain.com and follow us via Facebook, Twitter, Instagram and Snapchat @CPLBaseball..
Contact:
Nathan Loprete
Phone:
540-424-4426