Updated July 08 2014
MARTINSVILLE, VA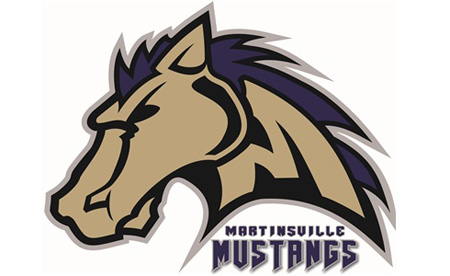 The runs didn't come early, but they came often. After three innings of scoreless baseball, the Martinsville Mustangs erupted for 13 runs and bested the Fayetteville SwampDogs 13-9.
The Mustangs were buoyed by the 4-for-5 performance from Ryan Hissey. Is his first game with the Mustangs after joining the team Sunday, he knocked in six runs and scored two more while also cashing in an impressive defensive outing behind the plate.
"It's baseball, you'll come down to earth," Hissey said. "But it was fun tonight. Everyone was hitting, feeding off of each other. That's what Charley and I were doing at school this year. We just kept it going."
"He's a great catcher," said Mustangs starting pitcher Stephen Hux. "He calls the game well and I trusted him. I never shook him off. He came through with the RBI for us too."
Charley Gould, a college teammate of Hissey's at William and Mary, chipped in three RBI with two runs scored in a 2-for-3 effort.
After a Hissey single tied the score at two in the fourth, the Mustangs lit up the scoreboard with five runs in the fifth inning, taking the lead. They never looked back.
Hux picked up the win, tossing six innings of four-hit ball. He allowed just one earned run and improved to 2-0 in his third start of the season.
"I'm pretty satisfied with it tonight," Hux said. "Kept the ball down and I had the defense to support me. I don't get a lot of strikeouts."
The SwampDogs loaded the bases in the first inning against Hux with just one out, but the Mustangs' righty escaped with no damage done to the scorecard.
"I think the story of the entire game was that first inning," said Mustangs head coach Joey Seal. "Him being mentally tough enough to get that third out without a run scoring was huge. If they score there it's an entirely different game."
For Seal, it seems that every time a new player arrives, that player performs at an exceptional level.
"It seems like every player we bring in has a good first day," Seal said. "We've been very fortunate in the guys we've been able to bring in as late additions to the roster. I think it says a lot about the character of the team for a guy like Ryan to come in and perform like that in his first day with the team. They made him feel comfortable enough to succeed."
The Mustangs hit the road Tuesday night to tangle with a familiar foe in the High Point Thomasville HiToms.
"It's gonna be essential to come out swinging the bat tomorrow until we get our pitching figured out," Seal said. "We've got some guys going through slumps all at the same time, but they're battling and working through it. It's gonna come around for them."
The Coastal Plain League is the nation's premier summer collegiate baseball league. Celebrating its 22nd season in 2018, the CPL features 16 teams playing in Georgia, North Carolina, South Carolina and Virginia. The CPL has had over 1,450 alumni drafted and 111 of those – including 2011 AL MVP and Cy Young winner Justin Verlander – make their Major League debut; while another notable alum – Russell Wilson – won Super Bowl XLVIII. For more information on the Coastal Plain League, please visit the league website at www.coastalplain.com and follow us via Facebook, Twitter, Instagram and Snapchat @CPLBaseball..
Contact:
Brian Gardner
Phone:
276-403-5250