Updated June 06 2017
HOLLY SPRINGS, N.C.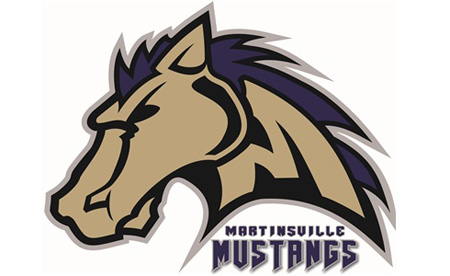 Coming off a rainout at Florence on Saturday the Mustangs were eager to return to the field after having two days off. In a game that seemed to be headed for another rainout the Mustangs rallied to their second win of the year and a 2-2 record.

Martinsville sent Texas redshirt freshman John Weber to the hill. Weber who hadn't pitched in a game since February looked good early and retired the first six he faced. Mustangs pitching coach Ryan Vruggink talked about Weber's debut.

"It's pretty to hard to get back in the swing of things," he said. "I thought he did a really good job of keeping the ball down in the zone and giving us a chance to win."

Martinsville jumped out to a 2-0 lead in the second after a leadoff walk to Ryan Shinn. That brought up Lee Sponseller who was making his Mustangs debut also. Salamanders pitcher Andrew Gnazzo threw one pitch to the talented redshirt junior and he didn't miss it. Sponseller took the first pitch fastball over the right-center field wall for a home run.

"I was just trying to get some pitches I could hit. My first at bat I was looking for a first pitch fastball and I got it," Sponseller said.

Sponseller also talked about his decision to play in the Coastal Plain League after playing in the Northwoods League last summer.

"I had a very good relationship with Coach Vrug [Vruggink]. I played with him two summers ago and I heard it was great baseball," he said.

In the third inning with two on, Emilio Abreu lined a ball into left that Salamanders left-fielder Cade Marlowe couldn't snag and the Mustangs lead 4-0.

Holly Springs got back into the game in the home half of the inning. A two-run shot by Austin Lafollette and a solo home run by Dalton Hoiles cut the Mustangs led to one.

The rain took over in the fifth inning with the Mustangs batting and the game entered a two hour delay. When play resumed both starting pitchers were done. Weber finished with four innings, three runs allowed, and a no-decision.

"It hurt with that rain delay because we wanted to get him back out for the fifth and extend him a little to just get him to the point of where we want him to be this summer," Vruggink said. "It's a lot different from throwing a bullpen to throwing to hitters."

Isaac Hale took over on the mound for Martinsville. Holly Springs jumped out of the gates fast and took the lead due in large part to an error and a misplay in the outfield that set up the inning.

The Mustangs rallied in the sixth inning. Sponseller led the inning off with his second home run of the night as he snuck one just inside the right-field foul pole. Mustangs hitting coach Kevin Soine talked about the impact Sponseller had on the lineup.

"We already have a potent lineup as we've shown so far and if you stick him right in the middle it adds firepower," he said.

Sponseller, who has had two pre-draft workouts with the San Diego Padres talked about keeping his focus on baseball.

"I'm just trying to control what I can control and that's going out and having fun playing the game," he said. "Me being a fifth-year senior next year, this could be if nothing happens with the draft, my last summer playing baseball."

Trailing 6-5 and with two on base, Keaton Weisz laid a bunt down the third base side that Salamanders reliever Chris Rodriguez threw down the first base line. Two runs scored and Weisz ended up on third with the error.

Davis Sims and Abreu drove in two more runs and the Mustangs lead was now 9-6.

Hale settled in after the fifth inning and didn't run into trouble until the eighth. After an RBI single by Payton Isaacson made it 9-7, Hale induced a 6-4-3 double play that ended the inning.

That was the last threat for the Salamanders as Hale (1-1) closed out the ninth to earn his first win. Hale finished with six strikeouts over five innings of work.

"He works real hard and that's something he's deserved," Vruggink said. "He played at the school I graduated from so I got to play with Isaac for a year. I know him pretty well and it was awesome to see him well because he has the stuff to do that night in and night out."

Head coach Danny Higginbotham talked about the way Martinsville responded coming out of the rain delay.

"It's not easy to sit around for two plus hours," he said. "It was great to see that they refocused. They were good about getting back in the competitive mindset.

Martinsville has also won two in a row after starting the season 0-2.

"The confidence has stayed the same. The first two games there was some nervousness. The confidence from the coaching staff to the players has always been there," Higginbotham said.

Martinsville returns home Tuesday to face Forest City and then Gastonia on Wednesday. First pitch is slated for 7:15.
The Coastal Plain League is the nation's premier summer collegiate baseball league. Celebrating its 22nd season in 2018, the CPL features 16 teams playing in Georgia, North Carolina, South Carolina and Virginia. The CPL has had over 1,450 alumni drafted and 111 of those – including 2011 AL MVP and Cy Young winner Justin Verlander – make their Major League debut; while another notable alum – Russell Wilson – won Super Bowl XLVIII. For more information on the Coastal Plain League, please visit the league website at www.coastalplain.com and follow us via Facebook, Twitter, Instagram and Snapchat @CPLBaseball..
Contact:
Nathan Loprete
Phone:
540-424-4426