Updated July 02 2017
MARTINSVILLE, VA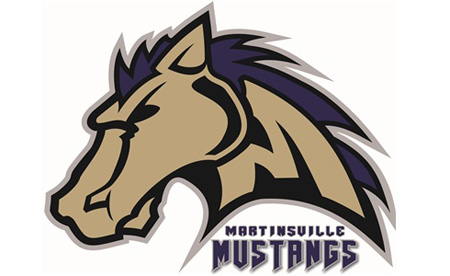 In front of a sold-out crowd on Saturday night the Mustangs pulled off an epic comeback, capped off with a walk-off in the ninth. The win gave Martinsville their first winning record at the end of the first half since 2007.

The game didn't get off to a great start for the Mustangs and starting pitcher Alex Kubera. The right-hander allowed a run on three hits in the first and then another run in the second inning.

In the bottom of the second the Mustangs got a run back against HiToms starter Austin Chastang. With two outs Matt berler hit a ball to center that the HiToms center-fielder dropped. With Berler at second Andres Sosa singled to score Berler.

Things would stay relatively quiet until the sixth inning. After a walk and an error helped set up the HiToms, Callahan Moltzan drove in a run to make it 3-1. Later with two outs, Kubera would allow three consecutive hits including back-to-back doubles which made it 7-1.

Kubera departed after that and Holden Nix took over. Nix got the last out of the inning but the damage was done.

Martinsville responded in the home half of the inning. With one out Zach Michalski doubled and Kyle Wilkie followed with a walk. After Ryan Shinn was hit, Berler stepped in a drove in two with a single. Two runs scored and it was 7-3.

Sosa kept things moving with an RBI double that scored two more runs and the Mustangs were within two. Sosa finished 2-4 with three RBIs. An RBI ground out by Marshall Gei got the Mustangs within one after six innings.

Mustangs Head Coach Danny Higginbotham talked about the way his team fought back.

"They focused on the process," he said. "We are down a few guys and we've had some injuries. We only had nine position players. They were grinders tonight."

Nix worked around a bases loaded jam in the seventh but the Mustangs couldn't score in the bottom half.

In the eighth Nix got some help from his defense. The HiToms third baseman Mason McClellan lined a ball into right that Shinn played off the wall. His throw to second was a one hopper and Sosa applied the tag to nail the runner.

Mike Stephens came into pitch the ninth and kept it scoreless. That left Martinsville with just three outs to work with.

Gei got things going with a one out walk and Josh Smith followed with a walk as well. High Point-Thomasville went to Jake Wyrick with Davis Sims due up next.

The CPL All-Star took a pitch from the HiToms closer and lined it into left field. Gei raced in to score the tying run and Smith held at third. Sims talked about the huge hit after the game.

"I was just trying to get a base hit there," he said. "I started off 0-3 in the game and I wasn't trying to do much in that situation but I knew I wanted to get back up to the plate for one more shot and help us win."

Higginbotham noticed the mindset of his young player.

"The moment didn't get too big for him being a young guy," he said.

After an intentional walk to Michalski, Wyrick struck out Wilkie, leaving it up to Shinn. On a 2-1 pitch Wyrick missed outside and the ball went to the backstop. Smith raced home and the Mustangs completed the comeback with an 8-7 win.

Higginbotham was excited with the way his team finished the first half but he also talked about what the win meant for Martinsville who hadn't had a winning record after the first half in 10 years.

"I told them that after the game and we talked about it a little before. It was a goal of ours. You have short-term goals and you have long-term goals. We met a short-term goal tonight which is a positive," he said.

The head coach also talked about the environment at Hooker Field.

"It's pretty cool to see a sold-out crowd at Hooker Field. To have a win like that and with a crowd like that is perfect," he said.

Martinsville now turns to the second half in which will begin tomorrow. The Mustangs hit the road for a three-game road trip to face Holly Springs. Game time is set for 5:45.

The Coastal Plain League is the nation's premier summer collegiate baseball league. Celebrating its 22nd season in 2018, the CPL features 16 teams playing in Georgia, North Carolina, South Carolina and Virginia. The CPL has had over 1,450 alumni drafted and 111 of those – including 2011 AL MVP and Cy Young winner Justin Verlander – make their Major League debut; while another notable alum – Russell Wilson – won Super Bowl XLVIII. For more information on the Coastal Plain League, please visit the league website at www.coastalplain.com and follow us via Facebook, Twitter, Instagram and Snapchat @CPLBaseball..
Contact:
Nathan Loprete
Phone:
5404244426