Updated June 22 2017
MARTINSVILLE, VA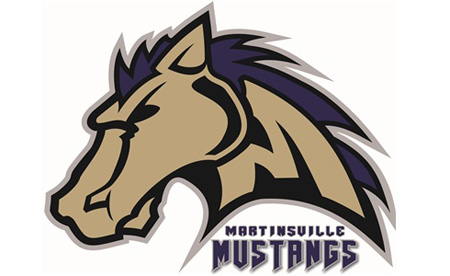 After a loss in game one of a doubleheader the Mustangs bounced back with a strong performance in game two. Behind a strong start from Texas freshman John Weber and two RBIs from Josh Smith the Mustangs improved to .500 with an 4-1 win.

Asheboro sent John Alan Kendrick to the mound for the second game. In the second inning after Zach Michalski led off with a walk, Ryan Perkins singled with one out.

Kendrick struggled with his control after that and issued consecutive walks which scored the first run of the game. Still with one out, Josh Smith flied out to center and Perkins raced in to score the second run.

Weber who was making his third start of the season, got off to a strong start. In the second inning with two runners on, Weber got Jeremy Simpson to ground out. Weber worked his way through the third and fourth before running into a little bit of trouble in the fifth.

After a one out double by Simpson, Weber issued a two out walk to Clark Brinkman. That ended the night for Weber and Isaac Hale took over.

With Caleb Webster up, Brinkman stole second and Simpson raced in to score just ahead of the throw from second. With a runner in scoring position, Webster had a hit taken away after a big play by Mustangs shortstop Keaton Weisz to end the frame.

Weber finished with 4.2 innings and one earned run on five hits. The freshman talked about his approach after the game.

"I wanted to be more efficient in the zone," Weber said. "Just attack…and stay consistent through the game. Spotting up my fastball and changeup combo was the more effective thing that I had. The breakers were a little iffy but they did the job when I needed it."

Mustangs Assistant Coach Ryan Vruggink talked about Weber who has made progress since making his first start of the season.

"That's a kid that's going to keep getting better," he said. "He's a year removed from competitive baseball after redshirting this year at UT. He's got pretty good stuff but he's also the mentality that a starting pitcher needs."

Mustangs Head Coach Danny Higginbotham talked about Weber's confidence and the catcher Connor Glick after the game.

"His stuff was good but it was the confidence knowing that, I can pitch in this league. Glick called a great game and kept him composed," he said.

In the sixth, Asheboro went to Leon Hunter who allowed a single to Matt Berler and an error allowed Glick to reach. That brought up Smith who singled to center and Berler scored the third run of the game.

Hunter walked the next two hitters, including Davis SIms which scored another run, making it 4-1. The Mustangs finished with seven hits and seven walks.

"It was good to see them score some runs in some different ways," Higginbotham said. "We've hit the long ball but you don't want to depend on it, you want to take good at bats. When you try to hit the long ball to much your swing gets a little longer. It's good to see them shorten up a little, put the ball in play, and make some things happen."

Mustangs Assistant Coach Kevin Soine talked about the offense that had been struggling a little as of late.

"They've been battling," he said. "We've hit a rough stretch as of late so we've been trying to battle through and take it each at bat per at bat. That gave us some breathing room so to get those runs late, made everybody relax a little bit."

Hale came back out for the seventh and with the tying run at the plate, the sophomore from Arkansas Tech got Webster to fly out, ending the game.

Hale who picked up his first save of the year talked about his outing after the game.

"My slider was working pretty good. It was breaking off the plate and keeping hitters off balance," he said.

Vruggink talked about Hale who has been good for the Mustangs this summer and has lowered his ERA to 3.29.

"I don't know if Isaac realizes how good he really is," he said. "He's got a swing and miss slider and fastball that runs up there to. This experience is going to go a long way with him when he goes back to school."

Higginbotham who recruited him out of high school when he was at Arkansas Tech talked about seeing Hale come through at a big moment.

"I got a special place for him and he knows that. It's good to see him have success for the team as well," he said.

Martinsville who is now 1-3 against the Copperheads will travel to Asheboro today for another doubleheader. Higginbotham talked about how big the win was in terms of changing the mindset.

"We've had our struggles against Asheboro so getting that monkey off our back and beating them is good. You can focus on the process again knowing that you can beat that team," he said.
The Coastal Plain League is the nation's premier summer collegiate baseball league. Celebrating its 22nd season in 2018, the CPL features 16 teams playing in Georgia, North Carolina, South Carolina and Virginia. The CPL has had over 1,450 alumni drafted and 111 of those – including 2011 AL MVP and Cy Young winner Justin Verlander – make their Major League debut; while another notable alum – Russell Wilson – won Super Bowl XLVIII. For more information on the Coastal Plain League, please visit the league website at www.coastalplain.com and follow us via Facebook, Twitter, Instagram and Snapchat @CPLBaseball..
Contact:
Nathan Loprete
Phone:
540-424-4426