Updated July 20 2017
ASHEBORO, N.C.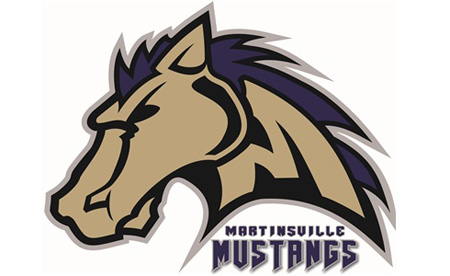 The Mustangs hit the road to face Asheboro on Wednesday night. Behind an excellent pitching performance from James Nittoli and some big hits Martinsville was able to end their 10 game losing streak with a 7-3 win.
The Mustangs offense had really struggled over the course of the losing streak as they had not scored more than three runs in the previous eight games. The Mustangs took care of that statistic early.
Matt Berler was in the lead off spot and he got the offense started. After a leadoff walk against Asheboro starter John Alan Kendrick (2-6), Berler stole second and third. With two outs Austin LaDoux lined a single into center and Martinsville had a 1-0 lead. When leading off an inning this season Berler has an on-base-percentage of .536.
"I know we've been struggling offensively so stealing bags is a way to get our offense going a little better," Berler said.
Kyle Wilkie followed with a single and that brought in new addition Matt Dunlevy. The Mustangs outfielder grounded a ball to third that Kirby Lambert threw away. Dunlevy earned a hit and the throwing error scored LaDoux and Wilkie. The Mustangs led 3-0 before Nittoli threw one pitch.
Nittoli had made two previous starts for the Mustangs this summer but had yet to earn a decision. The left-hander worked around an error in the first and in the second to keep Asheboro off the board.
"The offense scored three runs so that settled me down a little bit," Nittoli said. "I just tried to keep pounding the strike zone and get ahead of hitters."
The Mustangs gave Nittoli a bigger lead to work with in the third inning. After two singles by Josh Smith and keaton Weisz opened the inning, LaDoux laid down a sacrifice bunt to move both runners up. A wild pitch from Kendrick scored Smith and then a groundout by Wilkie scored Weisz to make it 5-0 Martinsville.
The Mustangs broke the game open in the fourth. With two outs and Emilio Abreu at first base, Berler launched his first home run of the summer over the right field wall. Berler finished 1-3 with two runs scored. The junior from Missouri talked about his approach with two strikes.
"We stayed aggressive at the plate and attacked the pitches we knew we could drive. I was just trying to battle with two strikes. He left a pitch up and I got a barrel on it," he said.
Mustangs Hitting Coach Kevin Soine talked about the importance of Berler's performance.
"Like everybody else he's been struggling a little bit but he's been coming in with a new attitude," he said. "That's the second game in a row where he's been on base for us and he's been driving the baseball lately. Him in the leadoff spot is good because it gets the rest of the offense going."
Nittoli had all the run support he needed. He worked through the third and fourth before allowing a solo home run in the fifth. Nittoli (1-0) picked up his fifth strikeout of the game in the sixth which was his final inning. He allowed one run on just two hits.
Mustangs Pitching Coach Ryan Vruggink talked about Nittoli's performance after the game.
"We needed a good start to get us back on track," he said. "Everything he threw tonight was competitive. All three of us have been saying how confident we are over this stretch. This team is way to talented and hopefully this win gets the pressure off the guys."
Holden Nix took over out of the bullpen and held Asheboro scoreless through the seventh and eighth. In the ninth the Copperheads got a two-run homer from Mason Fox to cut into the Mustangs lead.
Martinsville brought in Patrick Orlando to finish the game off and he picked up two strikeouts before getting a groundout to end the game.
"We had some guys step up in some big moments tonight," Soine said. "That's what we've been missing. When we had two outs with runners in scoring position we had some guys give us base hits and that really sparked our offense tonight."
Head Coach Danny Higginbotham also saw improvement in the at-bats taken by his team in the 7-3 win.
"Their approach was better and even some of the foul balls they hit, they drove," he said. "The strikeout numbers were down tonight and that goes hand-in-hand with the win."
Martinsville (16-25) head to Wilson (12-26) today to face the Tobs for the first time this season. Game time is 7:00.
The Coastal Plain League is the nation's premier summer collegiate baseball league. Celebrating its 22nd season in 2018, the CPL features 16 teams playing in Georgia, North Carolina, South Carolina and Virginia. The CPL has had over 1,450 alumni drafted and 111 of those – including 2011 AL MVP and Cy Young winner Justin Verlander – make their Major League debut; while another notable alum – Russell Wilson – won Super Bowl XLVIII. For more information on the Coastal Plain League, please visit the league website at www.coastalplain.com and follow us via Facebook, Twitter, Instagram and Snapchat @CPLBaseball..
Contact:
Nathan Loprete
Phone:
5404244426