Updated July 24 2017
MOREHEAD CITY, N.C.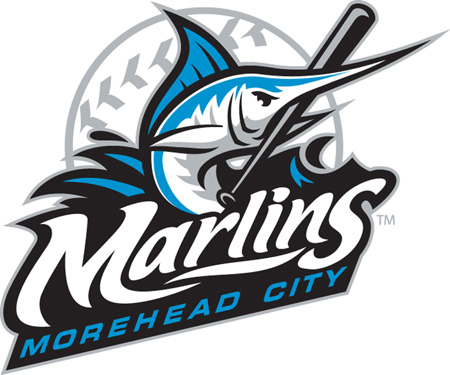 Morehead City Marlins catcher Kyle Skeels (Coastal Carolina) had another huge night at the plate with a pair of solo home runs; however, the Marlins dropped their ninth consecutive game to the Wilmington Sharks by a final score of 7-4 from Puck O'Neal at Big Rock Stadium Monday evening. Skeels has posted four home runs and 10 total RBIs in the last two games.
Morehead City is now 19-22 overall and 6-7 in the second half, snapping its three-game win streak. Wilmington wins their sixth straight contest, improving to 24-19 overall and 11-4 in the second half of the 2017 campaign. The Marlins begin a crucial three-game road trip tomorrow night, traveling to Ting Stadium to face the Holly Springs Salamanders. First pitch is slated for 7:05 p.m.
MHC shortstop Nick Podkul (Notre Dame) supported Skeels' offensive efforts, finishing 2-for-3 with a RBI. Steven Taylor (Mercer) and Alec Wilson (Stanford) each went 1-for-3 at the plate with one run scored. For Wilmington, Justin Dean (Lenoir-Rhyne) and Michael Sandle (South Alabama) each tallied a 3-for-4 effort at the top of the Sharks order, while Sandle drove in a pair of runs.
Wilmington started hot offensively, recording three runs in the opening frame to grab an early 3-0 advantage. A RBI ground out from Brian Parreira (USC Aiken) and two-run double from Dayton Dugas (Wichita State) put the Sharks in front early.
Two innings later, a solo home run from Skeels got the Marlins on the board in the bottom half of the third inning to make it a 3-1 contest. The Sharks soon responded with four unanswered runs in the top of the fifth and sixth innings to extend their advantage out to 7-1. Sandle's two-RBI single in the sixth frame gave Wilmington its largest lead of the night.
Morehead City added a pair of runs in the bottom of the seventh inning with a solo shot from Skeels and RBI double from Podkul to trim the deficit down to 7-3. The Marlins attempted a late comeback in the bottom half of the ninth inning with a RBI double from Mike Warren (Armstrong State), but it would not be enough as the Sharks secured the four-run triumph.
Wilmington starting right-handed pitcher Mitch Spence (USC Aiken) got the win, improving to 1-2. Marlins starting lefty Ryan Flores (Lander) took the loss, falling to 0-1 in his first start of the season. The MHC pitching trio of Anthony Holubecki (Notre Dame), Quinton Driggers (Newberry) and Charlie King (Davidson) threw a combined three innings of scoreless relief with no earned runs allowed on one hit.
The Coastal Plain League is the nation's premier summer collegiate baseball league. Celebrating its 22nd season in 2018, the CPL features 16 teams playing in Georgia, North Carolina, South Carolina and Virginia. The CPL has had over 1,450 alumni drafted and 111 of those – including 2011 AL MVP and Cy Young winner Justin Verlander – make their Major League debut; while another notable alum – Russell Wilson – won Super Bowl XLVIII. For more information on the Coastal Plain League, please visit the league website at www.coastalplain.com and follow us via Facebook, Twitter, Instagram and Snapchat @CPLBaseball..
Contact:
Jackson Kaplan
Phone:
919-208-3636