Updated September 27 2017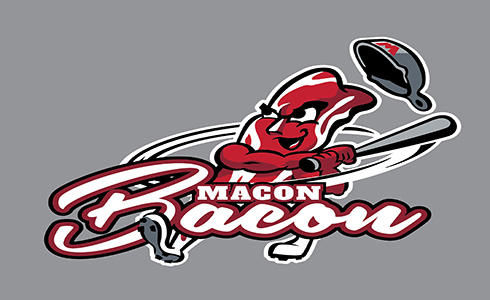 As the saying goes, everything is better with Bacon. That will be evident as the new Coastal Plain League (CPL) franchise takes the field in 2018 as the Macon Bacon. The franchise, name and logo were unveiled at a special event September 27 in front of a packed house at the Georgia Sports Hall of Fame in downtown Macon.
The CPL is a premier summer collegiate league that has featured over 1,450 future professional baseball draft picks and 109 Major Leaguers. Macon becomes the 16th team in the league, which features franchises in Georgia, North Carolina, South Carolina, and Virginia.
The unveiling of the team name, logo, and varied uniform and hat combinations took place at an event that featured Macon civic and business leaders. Team co-owner Steve DeLay introduced a video detailing nearly 90 years of baseball history at Luther Williams Field, where the team will begin play in June 2018 following a $2.5 million renovation.
DeLay and co-owner Jon Spoelstra, a legendary sports marketer, bring more than 60 years of sports franchise operating experience, including leadership roles with teams in the NBA, NHL, Major League Baseball and Minor League Baseball. They are also minority owners of the CPL's wildly successful Savannah Bananas.
"We're thrilled with the initial response to baseball coming back to Macon", said DeLay. "The community has responded to our all-you-can-eat ticket packages, the corporate community is tremendously excited about our partnership opportunities, and now that we have formally announced the club along with a tasty brand and logo. We're excited and confident about the future!"
"This is what sports is all about," said Spoelstra. "It's families. It's community. It's having fun at the old ballpark. We're looking forward to tremendous crowds and entertaining our fans every game."

The Bacon logo was created by Tony Canepa of Tony Canepa Design in Austin, TX. (www.tonycanepa.com) Canepa worked with DeLay and Spoelstra at Mandalay Baseball Properties, who owned and operated several of the leading franchises in all of baseball, and has designed logos for teams in Minor League Baseball, soccer and hockey.
"It was a lot of fun to work with Steve and Jon again on this project," said Canepa. "The name created a lot of opportunities for a unique primary character, cool uniforms and even better hats. Everything came together perfectly. After all, who doesn't like bacon!"
The team unveiled uniforms and hats featuring bacon strips as numbers on the back of the home jerseys and a "Bacon M" secondary logo that demonstrates the appeal of the delectable moniker through a bite out of the leg of the 'M'. Alternate uniforms feature a cardinal led top and pants and a jersey and socks made of bacon strips.
"I think it's terrific," said Mayor Robert Reichert who was instrumental in bringing the Coastal Plain League to Luther Williams Field. "The name is fun. It's different. It's sure to put our fine city on the map nationally."
Coastal Plain League COO/Commissioner Justin Sellers, who was also in attendance said, "The name and logo continue along the great successes and fun we've had with our two most recent expansion teams, the Savannah Bananas and the Holly Springs Salamanders. We're looking forward to terrific success in Macon with the Bacon."
Fans can grab slices of the franchise through merchandise available at the team's new web address, www.maconbaconbaseball.com. The team intends to be very active in social media, with promotions, fun facts, results and much more. Fans can follow the team on Twitter: @gomaconbacon, Facebook: Macon Bacon, Instagram: @gomaconbacon_, and Snapchat: gomaconbacon
About the CPL
The Coastal Plain League is the nation's premier summer collegiate baseball league. Celebrating its 22nd season in 2018, the CPL features 15 teams playing in Georgia, North Carolina, South Carolina and Virginia. The new Macon team will be the 16th team in 2018. The CPL has had over 1,450 alumni drafted and 109 of those – including 2011 AL MVP and Cy Young winner Justin Verlander – make their Major League debut; while another notable alum – Russell Wilson – won Super Bowl XLVIII. For more information on the Coastal Plain League, please visit the league website at www.coastalplain.com and follow us via Twitter @CPLBaseball.
About the Macon Bacon
The Macon Bacon are a brand-new Coastal Plain League team starting play at Luther Williams Field in June, 2018. All-you-can-eat 5, 10 and 25 game ticket packages are available at www.maconbaconbaseball.com or by calling 478-803-1795
Contact:
Tyler Vertin
Phone:
478-803-1796