Updated January 17 2018
Louis DeCarolis New Director of Operations & Sales for Wilson Tobs
WILSON, N.C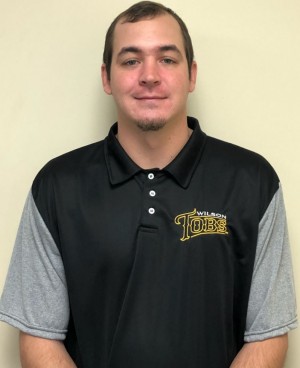 Tobs Announce New Staff
2018 continues to provide exciting news for the Wilson Tobs Baseball Club. Wilson native, Louis DeCarolis joins the staff as the new Director of Operations and Sales. DeCarolis is a Barton College graduate with a bachelor's degree of science and a former member of the Barton College baseball program. Before arriving at Barton College, DeCarolis attended Methodist University and Wake Technical Community College. Tobs General Manager had this to say about DeCarolis "Louis is very familiar with our organization and has a heavy background in sport management. Louis will be a valuable asset to the Tobs because he brings a vast knowledge of the local community and the understanding of baseball in Wilson."
Prior to joining the Wilson Tobs Organization, DeCarolis was the Head Coach & Assistant General Manager of the North Wake Fungo of the Carolina Virginia Collegiate Summer League, as well as a baseball coach at Bunn High School. He was thoroughly involved with the Wilson Tobs High School Fall Baseball League and event operations for the past three seasons. After accepting the position DeCarolis had this to say, "I have enjoyed my time I've spent working with the organization and couldn't be happier to be a part of this staff. To provide entertainment to the great people of Wilson County while involving the beautiful game of baseball is just the perfect fit for me, and I can't think of a better place to do so than Fleming Stadium."
He played his final year of NCAA eligibility with the Bulldogs. During that season he struck out 36 batters in just 28.2 innings of work leaving him with a team best 11.3 k's/game. After college he had the opportunity to continue playing baseball at the professional level. DeCarolis played one season with the Santa Fe Fuego of the Pecos League of Independent Baseball where he recorded 15 innings and struck out 29 batters.
The Coastal Plain League is the nation's premier summer collegiate baseball league. Celebrating its 21st season in 2017, the CPL features 15 teams playing in Georgia, North Carolina, South Carolina and Virginia. The CPL has had nearly 1,300 alumni drafted and 95 of those – including 2011 AL MVP and Cy Young winner Justin Verlander – make their Major League debut; while another notable alum - Russell Wilson - won Super Bowl XLVIII. For more information on the Coastal Plain League, please visit the league website at
www.coastalplain.com
and follow us via Twitter
@CPLBaseball
.
Contact:
Mike Bell
Phone:
252-291-8627