Updated March 29 2018
WILMINGTON, N.C.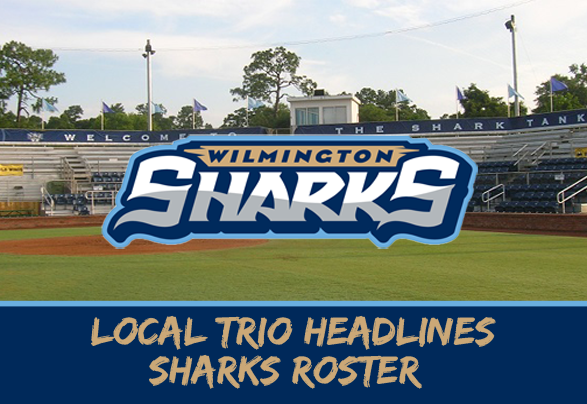 Three local Wilmington players are the first to be named to the 2018 Wilmington Sharks roster.
After the crushing defeat in last year's Petitt Cup Finals, the Sharks are looking to go one step further this season and capture the team's first title since 1999. RHP Sam Luchansky from Belmont Abbey University, LHP Caleb Bishop from Western Carolina University and OF Kevon Perkins from UNC-Pembroke look to be three cornerstones of the Sharks winning formula.
Sam Luchansky, a 5-10 junior from Hampstead, North Carolina joins his third franchise in the Coastal Plain League. Last year for the Wilson Tobs, Luchansky started 10 games and accumulated a 5.49 ERA and a 4-5 record. The year prior, the Hampstead native made 21 appearances for the Petersburg Generals. This season at Belmont Abbey, the right-hander has already made 16 appearances out of the bullpen on the way to a perfect 6-0 record. "We expect Sam to be a quality arm out of our bullpen all summer long that will come in and throw strikes," said Sharks Head Coach Tyler Jackson.
Another Coastal Plain League veteran joins the Sharks pitching staff this summer. Freshmen Caleb Bishop from Wilmington, NC is back for a second summer with the Sharks. The New Hanover HS native made five appearances for Wilmington last season before his first year at Western Carolina. The southpaw has made two starts for the Catamounts this season and is second on the team in pickoffs.
The third local prospect to join the Sharks is junior outfielder Kevon Perkins from UNC-Pembroke. "Perkins is an athletic speed guy that will bring some power to the Sharks lineup," said Coach Jackson. Perkins attended North Brunswick High School and earned All-State recognition in 2014 as a senior for the Scorpions.
Opening Day at the Shark Tank is May 31st, as the defending Eastern Division Champion Sharks host the Morehead City Marlins. Season tickets and ticket packages are on sale now and can be purchased online at wilmingtonsharks.com or by calling us at (910) 343-5621.
The Coastal Plain League is the nation's premier summer collegiate baseball league. Celebrating its 22nd season in 2018, the CPL features 16 teams playing in Georgia, North Carolina, South Carolina and Virginia. The CPL has had over 1,450 alumni drafted and 111 of those – including 2011 AL MVP and Cy Young winner Justin Verlander – make their Major League debut; while another notable alum – Russell Wilson – won Super Bowl XLVIII. For more information on the Coastal Plain League, please visit the league website at www.coastalplain.com and follow us via Facebook, Twitter, Instagram and Snapchat @CPLBaseball..
Contact:
Sam Rubinoff
Phone:
910-343-5621