Updated November 27 2017
HOLLY SPRINGS, N.C.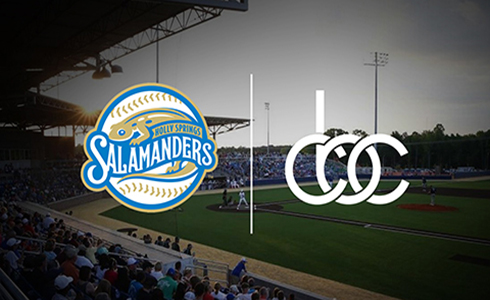 Capitol Broadcasting Company Inc. has purchased the Coastal Plain League's Holly Springs Salamanders. The Salamanders, who were previously owned by CPL co-founder Jerry Pettit, join the Durham Bulls as CBC-owned baseball properties.

"This is a very exciting time for the Coastal Plain League," said CPL COO/Commissioner Justin Sellers. "Capitol Broadcasting Company, well known for being the parent company of the Durham Bulls, has established itself as a strong operator that is highly involved and respected in the community. Their leadership will be a welcomed addition to our already knowledgeable and diverse group of owners and operators as we continue our quest to be the best summer league in the country. We look forward to seeing what they have in store for the Holly Springs franchise and the fans at Ting Stadium starting with the upcoming 2018 season."
The franchise, in existence since 2015, plays its home contests at Ting Park in Holly Springs, N.C. The 1,800-seat facility features a synthetic turf field, two locker rooms and digital scoreboard among other amenities, and is owned and operated by the Town of Holly Springs. In addition to their regular season games in 2017, the Salamanders hosted the CPL's 2017 All-Star Game in July that drew over 2,000 fans and aired live on regional television and streamed live on MLB.com.
The purchase of the Salamanders amplifies CBC's dedication to college baseball, as Durham Bulls Athletic Park is set to host the ACC Baseball Championship for the fourth time in six years in 2018. Additionally, the team is committed to further strengthening its ties with UNC, NC State and Duke to bolster amateur baseball's profile in the Triangle.
"Having met with Capitol Broadcasting Company some time ago, my initial response was this could be a win-win for both Holly Springs and CBC," Holly Springs Mayor Dick Sears said. "Their marketing expertise will be most welcome, and we look forward to a long and successful relationship."
In conjunction with the acquisition, Mike Birling has been promoted to vice president – baseball operations at CBC. Birling joined the Durham Bulls as assistant general manager in 1998, and was promoted to general manager following the 2002 season.
"We're extremely excited about adding the Salamanders to the CBC family," Birling said. "Holly Springs is an area that's shown tremendous growth, and as a company, we look forward to expanding our role in the Triangle community with the Salamanders. Additionally, with the Coastal Plain League's footprint, we're eager to enhance the Holly Springs name on both a local and regional level."
Capitol Broadcasting Company, Inc. is a diversified communications company which owns and/or operates WRAL-TV, WRAL Digital, WRAZ-TV, WRAZ Digital, WRAL-FM, WRAL-HD2,WCMC-FM, WCMC-HD1, WDNC-AM, WCMC-HD2, WCMC-HD3, WCLY-AM, WCMC-HD4, Microspace, CBC New Media Group and Wolfpack Sports Properties (a joint venture with Learfield) in Raleigh, NC; WILM-TV, WILT-LD and Sunrise Broadcasting in Wilmington, NC; The Durham Bulls Baseball Club, Bull City Hospitality and Bull Durham Beer Co., and the American Underground startup hub in Durham, NC; and real estate interests including the American Tobacco Historic District in Durham, NC, and Rocky Mount Mills in Rocky Mount, NC; and Professional Builders Supply (an equity partnership) in Morrisville, NC.
The Coastal Plain League is set to kickoff it's 22nd season in 2018, a full schedule can be found here.
About the Coastal Plain League:
The Coastal Plain League is the nation's premier summer collegiate baseball league. Heading into its 22nd season in 2018, the CPL features 16 teams playing in Georgia, North Carolina, South Carolina and Virginia. The CPL has had over 1,450 alumni drafted and 109 alums – including 2017 ALCS MVP, 2017 World Series champion, 2011 AL MVP and Cy Young award winner Justin Verlander, as well as 2017 NLCS MVP Chris Taylor – make their Major League debut. For more information on the Coastal Plain League, please visit the league website at CoastalPlain.com, and be sure to follow us on Facebook, Twitter, Instagram and Sanpchat @CPLBaseball.
Contact:
Shelby Hilliard
Phone:
919-852-1960