Updated July 28 2014
MARTINSVILLE, V.A.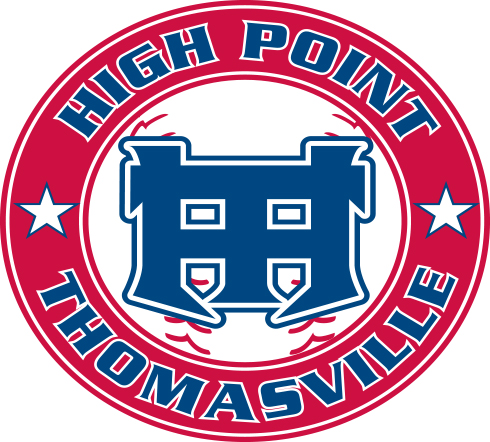 Offense came aplenty on both sides at Hooker Field Monday night, but the High Point-Thomasville HiToms came out on top again beating the Martinsville Mustangs 15-11.
With runners on first and second to open the game, the HiToms arrived with a bang as right-fielder Austin Crutcher (Bellarmine) drilled a two-run double to left field to give his team a 2-0 lead. After the Mustangs answered with a run in the bottom half, Bradley Morton (Appalachian State) got it back with a RBI sacrifice fly in the top of the second.
With the score tied at three apiece in the top of the third, HiToms third baseman Glenn Batson promptly untied it with a runner on first base by cracking a two-run homer to left field to give the HiToms a 5-3 lead. The score held until the top of the fifth when Crutcher stroked a solo shot to begin the frame – his CPL-leading 11th homer of the season. Two batters later with a runner at first, Batson struck again with his second two-run homer of the game for his sixth long ball of the campaign to push the High Point-Thomasville lead to 8-3.
Martinsville climbed back into the game, though trailing only 10-6 in the bottom of the eighth. The bases were loaded with the tying run at the plate and two outs, but HiToms reliever Eric Sharff (Delaware State) struck out his man to end the frame.
Both teams plated five runs in the ninth inning to give the game its final tally.
The HiToms, winners of six in a row and eight of their last nine, look to continue their streak as they travel to historic Hicks Field to face the Edenton Steamers. First pitch is scheduled for 7 P.M.
The Coastal Plain League is the nation's premier summer collegiate baseball league. Celebrating its 22nd season in 2018, the CPL features 16 teams playing in Georgia, North Carolina, South Carolina and Virginia. The CPL has had over 1,450 alumni drafted and 111 of those – including 2011 AL MVP and Cy Young winner Justin Verlander – make their Major League debut; while another notable alum – Russell Wilson – won Super Bowl XLVIII. For more information on the Coastal Plain League, please visit the league website at www.coastalplain.com and follow us via Facebook, Twitter, Instagram and Snapchat @CPLBaseball..
Contact:
Nkwa Asonye
Phone:
336-472-8667