Updated August 07 2017
FAYETTEVILLE, N.C.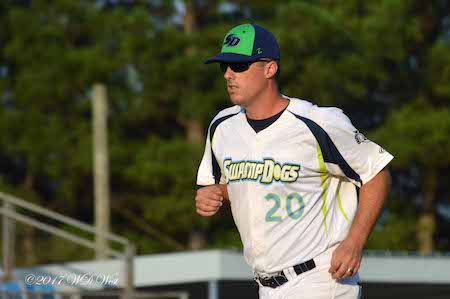 The Fayetteville SwampDogs announced the Head Coach Matt Hollod (Riverside City College) will return to lead the SwampDogs during the 2018 season. Hollod has experienced tremendous success in his first year with the SwampDogs, leading Fayetteville to an East Division 1st Half Title for the first time since 2011, while the SwampDogs have clinched a berth in the Petitt Cup Playoffs for the first time since 2014.
Hollod's first season success earned him the opportunity to lead the East Division All-Star team in this year's Coastal Plain League All-Star Game, leading the East to a 2-1 victory in Holly Springs. Hollod has coached three SwampDogs pitchers to Pitcher of the Week honors while Justin Hawkins (Clemson) picked up Fayetteville's lone Hitter of the Week honor this year. The SwampDogs continue to lead the league in batting average, runs scored, and hits. In addition, the SwampDogs pitching staff has the 4th best ERA in the league under Hollod's tutelage.
Hollod also led the SwampDogs to a top two position in the East Division overall standings ensuring the SwampDogs will host a playoff game this Tuesday.
Hollod is already looking forward to what lies ahead both this season and beyond, "I want to thank Jeremy and Lew for the offer. I've enjoyed my time here and look forward to coming back and will be getting started right away on next year's roster."
For General Manager Jeremy Aagard, the decision to ask Coach Hollod to return for another season was easy, "We're excited for Matt to return next year. His success on the field has been fun to watch and the young men he has recruited have been incredible in our community."
The SwampDogs return to The Swamp on Monday Night for Teacher Appreciation Night against the Wilson Tobs. First pitch is at 7:05 with the gates opening at 6. For all your SwampDogs news and updates please visit GoSwampDogs.com and follow us on Twitter @GoSwampDogs. The SwampDogs season is presented by Fayetteville Kia.
The Coastal Plain League is the nation's premier summer collegiate baseball league. Celebrating its 22nd season in 2018, the CPL features 16 teams playing in Georgia, North Carolina, South Carolina and Virginia. The CPL has had over 1,450 alumni drafted and 111 of those – including 2011 AL MVP and Cy Young winner Justin Verlander – make their Major League debut; while another notable alum – Russell Wilson – won Super Bowl XLVIII. For more information on the Coastal Plain League, please visit the league website at www.coastalplain.com and follow us via Facebook, Twitter, Instagram and Snapchat @CPLBaseball..
Contact:
Leo Blavin
Phone:
(910)-426-5900