Updated January 21 2016
GASTONIA, NC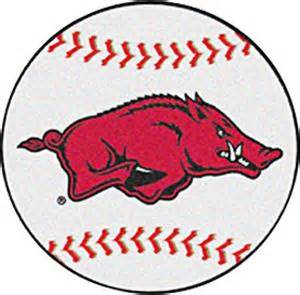 The Gastonia Grizzlies are proud to announce the signing of three players from the University of Arkansas. Barrett Loseke, Kevin Kopps and Darien Simms will be joining the Grizzlies roster for the 2016 season.
Grizzlies head coach, Evan Wise, had the following comments: "We are excited to add three Arkansas Razorbacks to our 2016 roster. Kopps and Loseke are both freshman right-handed pitchers that are expected to contribute this season for Arkansas. Their coaching staff has high expectations for both of these young men. Simms is a left-handed hitting outfielder who is a prototypical lead-off hitter with tremendous speed and a knack for scoring runs. This past summer he led the Texas Collegiate League in runs scored and finished in the top five in average and on-base percentage. These additions will be vital in the Grizzlies return to the Petitt Cup Championship in 2016".
David McDonald, Grizzlies General Manager, said "We are excited to begin a great relationship with the University of Arkansas this year. The Razorbacks have one of the top baseball programs in the SEC and we are very excited to welcome three of their top student-athletes to Gastonia for the 2016 season."
Kevin Kopps is a 6'0", 195 lb, freshman right-handed pitcher from Sugar Land, Texas. In his junior and senior seasons of high school, he struck out 172 of 524 batters and batted over .300 in the regular season and playoffs combined. Kopps was also named All-District MVP Pitcher and two time All-State Honorable Mention.
Barrett Loseke, 6'0" and 195 lb and also a freshman right-handed pitcher, is from Tulsa, Oklahoma. During his high school career he batted .388 with a .520 on-base percentage and led his team to the state semifinals and a #4 national ranking. As a senior, he had a 1.49 ERA with 85 strikeouts while allowing only 31 hits and 25 walks in 56.1 innings.
Darien Simms is a 5'7', 155 lb, redshirt freshman outfielder from Spring, Texas. In his last season, he hit .424 with 48 runs scored and 33 stolen bases in 31 games played. Simms was also named 4A All-State second team in 2013 and made an appearance in the AABC Connie Mack World Series in the summer of 2014. He holds his high school record for single season and career stolen bases.
These three outstanding athletes, plus many more talented baseball players will call Gastonia home in 2016. Box seat season tickets are sold out for the upcoming season but Grizzlies ticket memberships are on sale now for as low as $49 and include tickets to the biggest games of the season as well as numerous perks throughout the year! For more information, visit www.gastoniagrizzlies.com or call the front office at 704-866-8622.
The Coastal Plain League is the nation's premier summer collegiate baseball league. Celebrating its 22nd season in 2018, the CPL features 16 teams playing in Georgia, North Carolina, South Carolina and Virginia. The CPL has had over 1,450 alumni drafted and 111 of those – including 2011 AL MVP and Cy Young winner Justin Verlander – make their Major League debut; while another notable alum – Russell Wilson – won Super Bowl XLVIII. For more information on the Coastal Plain League, please visit the league website at www.coastalplain.com and follow us via Facebook, Twitter, Instagram and Snapchat @CPLBaseball..
Contact:
Stacey Featherston
Phone:
704-866-8622