Updated October 03 2016
GASTONIA, N.C.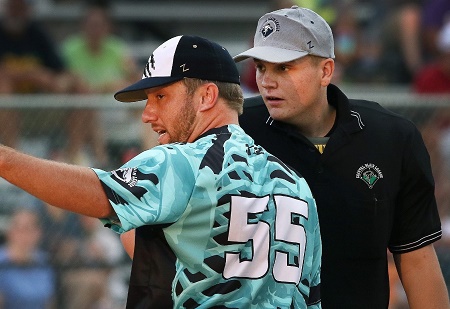 The Gastonia Grizzlies are proud to announce Evan Wise will be returning as Head Coach for the Grizzlies for the 2017 season.
Grizzlies General Manager, David McDonald, had the following comments, "We're very excited to bring Evan, Nick, and Charles back for the 2017 season. They do a great job building camaraderie with the team and being leaders in the clubhouse. The coaches know the system and love being a part of the entertainment."
Head Coach Evan Wise said, "I couldn't be happier to spend another summer in Gastonia in front of the best fans in the CPL. I look forward to bringing players from all over the country to compete for the 2017 Petitt Cup. My coaching staff and I have already started on the roster for the 2017 summer that will return some familiar faces."
Evan Wise is entering his third season as head coach for the Grizzlies and led the team to become First Half West Division Champions and the CPL Championship Runner-Up in 2015. Prior to being named head coach, Wise was the pitching coach for two Grizzlies teams in 2013 and 2014 that made trips to the CPL semifinals.
Wise is in his seventh year of coaching college baseball and in his third at Lenoir Rhyne University (Hickory, NC) where he currently serves as the pitching coach, assists in recruiting and oversees all aspects of strength and conditioning with the baseball team. Wise graduated from Lenoir Rhyne University in 2009. He is from nearby Lincolnton, NC and a 2004 Graduate of Lincolnton High School. He played locally for Cherryville Post 100 (2002-2005) under Hall of Fame Head Coach Bobby Dale Reynolds.
The Coastal Plain League is the nation's premier summer collegiate baseball league. Celebrating its 22nd season in 2018, the CPL features 16 teams playing in Georgia, North Carolina, South Carolina and Virginia. The CPL has had over 1,450 alumni drafted and 111 of those – including 2011 AL MVP and Cy Young winner Justin Verlander – make their Major League debut; while another notable alum – Russell Wilson – won Super Bowl XLVIII. For more information on the Coastal Plain League, please visit the league website at www.coastalplain.com and follow us via Facebook, Twitter, Instagram and Snapchat @CPLBaseball..
Contact:
Melissa Welch
Phone:
704-866-8622