Updated October 27 2015
GASTONIA, NC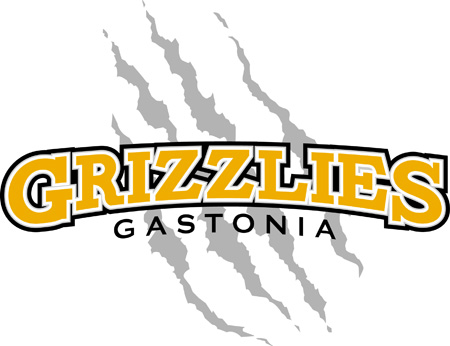 The Gastonia Grizzlies announced October 27 the release of their 2016 schedule for their 15th Anniversary season. For the first time, the Grizzlies have an alternating week by week schedule and feature doubleheaders on Tuesday games.
After the first week of the season, the schedule will rotate with a home doubleheader on Tuesday followed by a home game on Friday night. The following week will feature home games on Thursday night and Saturday night.
The only exception is the first week of the season where the Grizzlies will play single games on Tuesday, Thursday and Saturday. Also, the Grizzlies will host the popular Super Splash Day game on Wednesday June 22nd with a noon start and the Great Community Give Back Game on Monday August 8th.
Other than those two special dates, the Grizzlies will not be home any other Sundays, Mondays or Wednesdays during the 2016 season. All games will start at 7:17, presented by Glenway Premium Pub, except the Tuesdays doubleheaders that will start at 6:00PM, the June 22nd Super Splash game that will start at noon and the Midnight Madness game on July 22nd that will start at 8:00PM.
"I can't tell you how excited we are for this new unique schedule for the Grizzlies," said General Manager David McDonald. "Our fans will no longer have to constantly check our schedule as it will be now easy to follow and understand. If we are home Thursday, we will be home Saturday, if we play on Tuesday we will be back home on Friday. We believe one of the great things about football is that the dates are always set. We are thankful for the league to give us the opportunity to try something different this year and make our schedule even easier for our fans!"
The season opener will be Saturday, May 28th against the new Savannah franchise. The Savannah team is owned by Grizzlies Owners Jesse & Emily Cole and will be their first game in franchise history.
The Grizzlies first Fireworks game of the year is set for Saturday, June 4th against the Wilmington Sharks. Last year this game sold out a month in advance and will most likely only be available through Grizzlies memberships for this year.
The 2016 Grizzlies schedule will feature the biggest promotions on all weekend dates and some new unique weekly promotions that will be released closer to the season.
All new in 2016 are Grizzlies Memberships which feature amazing benefits for all Season Memberships and five game Memberships. Perks include Free Food with Grizzlies Bucks, Exclusive Meet & Greets with the Players, Restaurant Gift Cards, and Guaranteed Tickets to Fireworks games and more! For more information you can reach the Grizzlies front office at 704-866-8622 or visit www.gastoniagrizzlies.com
The Coastal Plain League is the nation's premier summer collegiate baseball league. Celebrating its 22nd season in 2018, the CPL features 16 teams playing in Georgia, North Carolina, South Carolina and Virginia. The CPL has had over 1,450 alumni drafted and 111 of those – including 2011 AL MVP and Cy Young winner Justin Verlander – make their Major League debut; while another notable alum – Russell Wilson – won Super Bowl XLVIII. For more information on the Coastal Plain League, please visit the league website at www.coastalplain.com and follow us via Facebook, Twitter, Instagram and Snapchat @CPLBaseball..
Contact:
Stacey Featherston
Phone:
704-866-8622