Updated July 12 2015
FLORENCE, S.C.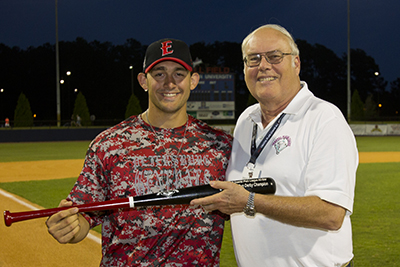 GK Young (pictures courtesy Pat Grecinger) of the Petersburg Generals, an East Division All-Star, took home the 2015 CPL All-Star Home Run Derby title on July 12, earning the win over Ryan Mincher of the Asheboro Copperheads who made it to the Championship round out of the West.
Hitting at Sparrow Stadium, home of the Florence RedWolves, in one of the deeper parks in the league, Young finished with six total home runs on the night, two of which were the highlight of the event. Taking advantage of a rule that allowed players to use aluminum bats for two outs each round, Young stepped up in the first round and bashed two home runs that were estimated at more than 400 feet over the right field wall.
"It took me back to my high school days getting to use aluminum," said Young. "It was a good feeling, a great experience hanging out with a lot of great players from around the league and from colleges all around the nation."
His two blasts got the crowd going and kept the momentum on his side as he powered his way into the championship round before hitting three more home runs (two with a wooden bat and one with aluminum) to take the crown.
The sophomore out of Coastal Carolina was presented a trophy bat by Coastal Plain League CEO and Owner Jerry Petitt, in addition to the special MLB Grade Home Run bats that each home run derby participant was presented with prior to the start of the event.
Representing the East alongside Young were Chad Sedio of Edenton, Stephen Wallace of Morehead City and Collin Woody of Holly Springs. Joining Mincher out of the West were J.D. Crowe of Lexington County, Hank Morrison of Martinsville and Ben Holland of the Florence RedWolves.
The Home Run Derby was preceding by an All-Star Fan Fest highlighted by the band Outshyne who entertained fans in the concourse of Sparrow Stadium. Tomorrow the East and West All-Stars will face-off in the 17th annual CPL All-Star game set to begin at 7:15 p.m. The game will be broadcast live on the Time Warner SportsChannel and streamed live online at www.coastalplain.com
About the Coastal Plain League:
The Coastal Plain League is the nation's hottest summer collegiate baseball league. Celebrating its 19th season in 2015, the CPL features 15 teams playing in North Carolina, South Carolina and Virginia. Furthermore, the CPL has had over 1,250 alumni drafted and 79 alums – including former AL MVP and Cy Young winner Justin Verlander – make their Major League debut thus far; while another notable alum – Russell Wilson – won Super Bowl XLVIII. For more information on the Coastal Plain League, please visit the league website at CoastalPlain.com, and be sure to friend us on Facebook (at www.facebook.com/coastalplainleague) and follow us via Twitter (as CPLBaseball).
Contact:
Shelby Hilliard
Phone:
919-852-1960