Updated August 17 2017
WILMINGTON, N.C.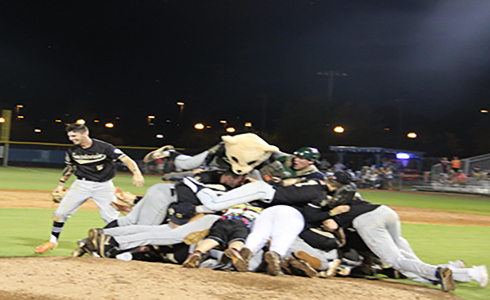 The Gastonia Grizzlies (picture courtesy Catherine Roth) won the Petitt Cup Championship Wednesday night in Wilmington, beating the Wilmington Sharks in game two of the Petitt Cup Championship Series 12-3. Gastonia won game one 7-4 in Gastonia, N.C on Tuesday.
Entering the playoffs as the four seed in the West Division and holding the lowest winning percentage of any of the East/West playoff teams, it would be easy to call this Championship that of an underdog story. This may be true, however the Grizzlies more than looked the part of a Champion from the first round of the playoffs on, previously sweeping the defending champion Savannah Bananas in the Western Division Championship Series.
To say they struck lightning at the right time would be an understatement, as their most perilous moment of the playoffs came when they found themselves down 4-0 after an inning and a half of play in game one prior to a lightning delay and eventual rain storm that forced the game to be suspended. Needless to say they went on to complete the comeback and head into Wednesday's game with a 1-0 series lead.
It took one pitch to see the lightning had not left as Chaz Davey narrowly missed a home run, instead hitting a double off the top of the wall in left. From there two errors by the Sharks and some timely base running left the Grizzlies up three after the top of the first.
The game moved on smoothly the next few innings before the Grizzlies pushed four more runs across in the top of the fourth, followed by Wilmington answering with two runs in the bottom half to leave the score at 7-2 after four. Wilmington went on to threat in the sixth with Michael Sandle driving in Justin Dean before Maciejewski settled and retired the next three Sharks in order to finish off a strong six innings of work on the night.
When the Grizzlies came up to bat for the final time it seemed like the celebration had already started as Thomas Yoder blasted a home run to help Gastonia to four more runs and a commanding 12-3 lead heading to the bottom half of the inning. From there Billy Layne came on to finish the game, pitching a perfect one-two-three inning while striking out one to seal the victory and Championship for the Grizzlies.
Maciejewski earned the win while Colby Lee of Wilmington took the loss. Davey finished 4-for-5 on the night with a double, two runs scored and a RBI for the Grizzlies while Dean was perfect at the plate for Wilmington going 2-for-2 with a double, stolen base and two runs scored.
This marked the Grizzlies second Coastal Plain League championship, following their first back in 2011 when they beat the Edenton Steamers in three games.
About the CPL
The Coastal Plain League is the nation's premier summer collegiate baseball league. Set to begin its 22nd season in 2018, the CPL features 16 teams playing in Georgia, North Carolina, South Carolina and Virginia. The CPL has had over 1,400 alumni drafted and 108 of those – including 2011 AL MVP and Cy Young winner Justin Verlander – make their Major League debut; while another notable alum – Russell Wilson – won Super Bowl XLVIII. For more information on the Coastal Plain League, please visit the league website at www.coastalplain.com and follow us via Twitter @CPLBaseball
Contact:
Shelby Hilliard
Phone:
919-852-1960