Updated October 21 2017
HOLLY SPRINGS, N.C.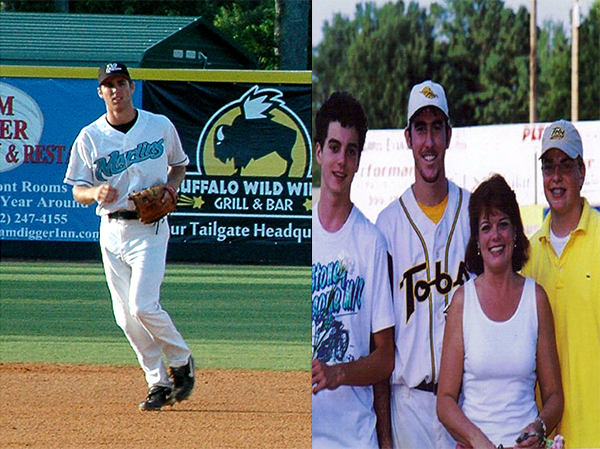 Former Morehead City Marlin Chris Taylor and former Wilson Tob Justin Verlander will face off in the 2017 World Series. Both Taylor, with the Los Angeles Dodgers, and Veralnder, with the Houston Astros, were named the Most Valuable Player of their respective series.
Verlander has a lengthy list of accomplishments under his belt including the 2006 Rookie of the Year, 2011 AL Cy Young and 2011 MVP awards. He has also led the league in strikeouts four times while also completing two no-hitters. He now adds ALCS MVP to that list after dominating in the series allowing only one run over 16 innings while striking out 21 for a 0.56 ERA and 1.31 K/9. Verlander was also dominant in the divisional round, finishing with a 1.46 ERA and 24 strikeouts across four postseason games thus far.
A six-time Major League All-Star, Verlander pitched for the Wilson Tobs of the Coastal Plain League in the summer of 2002. That summer, he made seven appearances and pitched 40 1/3 innings, coming away with a 2.68 ERA and 1-4 record. Overall, he gave up 14 runs, 12 of which were earned, on 22 hits, and walked 26. However, itt was his strikeout numbers that jump out, as Verlander racked up 54 of them on the season and opposing batters hit only .161 against him.
While Verlander has the more established career, Taylor broke out in 2017 for the Dodgers finishing with a .288 batting average, 34 doubles, five triples, 21 home runs, 72 RBIs and 85 runs scored during the regular season. His stellar play only continued into the postseason, culminated by his .316 batting average in the NLCS including the game-winning home run in game one of the series. All of which led to him earning NLCS Co-MVP honors alongside his teammate Justin Turner.
Taylor spent his 2010 summer in the CPL with Morehead City batting .252, with seven RBIs and nine stolen bases in 24 games for the Marlins. At the time he was the first former Marlin to make their MLB debut since the organization changed their name upon moving from New Bern in 2010, two former New Bern River Rats have made their major league debuts. In total the organization now has five Major Leaguers.
The 2017 World Series will kickoff Tuesday, October 24 and can be seen nationwide on Fox. The starters for each game have yet to be announced.
The Coastal Plain League is the nation's premier summer collegiate baseball league. Celebrating its 22nd season in 2018, the CPL features 16 teams playing in Georgia, North Carolina, South Carolina and Virginia. The CPL has had over 1,450 alumni drafted and 109 of those – including 2011 AL MVP and Cy Young winner Justin Verlander – make their Major League debut; while another notable alum – Russell Wilson – won Super Bowl XLVIII. For more information on the Coastal Plain League, please visit the league website at www.coastalplain.com and follow us via Facebook, Twitter, Instagram and Snapchat @CPLBaseball.
Contact:
Shelby Hilliard
Phone:
919-852-1960