Updated September 12 2017
HOLLY SPRINGS, N.C.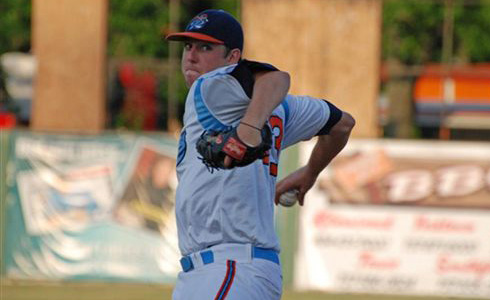 Former Peninsula Pilot Deck McGuire made his Major League debut September 12 for the Cincinnati Reds. McGuire pitched 1 2/3 innings, allowing only one hit and no runs while striking out one in the Reds 13-4 loss to the St. Louis Cardinals.
After a stellar career at Georgia Tech, McGuire was drafted in the first round,11th overall, by the Toronto Blue Jays in the 2010 MLB Draft. From there it seemed he was on the fast track to the majors, making it all the way to Double A in his first year in the minor league system. However his rise would stop there, not making it higher until debuting in Triple A three years later in 2014.
In total McGuire spent part of seven seasons in the minor leagues, accumulating a 4.31 ERA over 1,022 1/3 innings pitched. He did this while bouncing around between four different clubs, in addition to Toronto: Oakland, Los Angeles (NL), St. Louis and eventually Cincinnati. While his numbers were respectable, they were never enough to earn him the call-up, that was until he broke out in a big way for the Reds Double A affiliate in 2017, posting a 2.79 ERA in 2017 over 168 innings while striking out 170 and holding a career best 1.083 WHIP.
McGuire was the ace on the Peninsula Pilots staff during the 2008 summer, finishing the regular season with an impressive 7-0 record and 1.28 ERA over 56 1/3 while striking out 65. He was named to the Coastal Plain League All-Star Game that year as well, earning the win for the National CPL All-Stars. That night, McGuire pitched two complete innings of hitless baseball, walked none, and struck out two. After the game he was named the Rawlings Pitcher of the CPL All-Star Game.
He marks the 109th overall former CPL player to make his major league debut, and the 15th this year. His debut also pushes the Pilots major league alumni total to 11.
The Coastal Plain League is the nation's premier summer collegiate baseball league. Set to begin its 22nd season in 2018, the CPL features 16 teams playing in Georgia, North Carolina, South Carolina and Virginia. The CPL has had over 1,400 alumni drafted and 109 of those – including 2011 AL MVP and Cy Young winner Justin Verlander – make their Major League debut; while another notable alum – Russell Wilson – won Super Bowl XLVIII. For more information on the Coastal Plain League, please visit the league website at www.coastalplain.com and follow us via Twitter @CPLBaseball.
Contact:
Shelby Hilliard
Phone:
919-852-1960