Updated August 13 2017
HOLLY SPRINGS, N.C.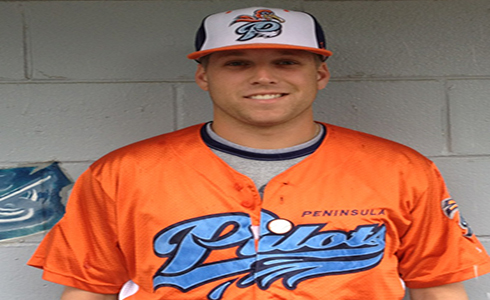 Former Peninsula Pilot Chris Rowley made his Major League debut August 12 for the Toronto Blue Jays. Getting the start, the right-hander allowed only one run over five and one third innings while striking out three.
Rowley went undrafted out of the West Point Military Academy in 2013 and was picked up as a free agent by the Blue Jays. Following rookie ball Rowley went on to serve his required two years in the Army over 2014 and 2015 before returning the baseball in 2016 where he impressed at High A for the Blue Jays enough to start the 2017 in Double A and soon earn another promotion to AAA. In total he accumulated a 2.71 ERA over 262 2/3 innings pitched with 217 strikeouts and only 57 walks.
A 2013 graduate of the U.S. Military Academy, Rowley became the first West Point alum to make it to the Major Leagues.
""Walking off and all those people standing, that was something really special for me," Rowley told media following the game. "I don't think anybody really expects to experience that in their life."
Rowley spent the 2012 season with the Peninsula Pilots as a Military Conditional, a special status awarded to college baseball players at Military institutions that allows them to play while on leave from training. Rowley marks the first CPL Military Conditional to make his Major League debut as well as becoming the 108th former CPL player overall to debut. His debut also pushes the Pilots total to 10 all-time.
About the Coastal Plain League:
The Coastal Plain League is the nation's premier summer collegiate baseball league. Celebrating its 21st season in 2017, the CPL features 15 teams playing in Georgia, North Carolina, South Carolina and Virginia. The CPL has had over 1,400 alumni drafted and 108 of those – including 2011 AL MVP and Cy Young winner Justin Verlander – make their Major League debut; while another notable alum – Russell Wilson – won Super Bowl XLVIII. For more information on the Coastal Plain League, please visit the league website at www.coastalplain.com and follow us via Twitter @CPLBaseball.
Contact:
Shelby Hilliard
Phone:
919-852-1960