Updated February 05 2018
HOLLY SPRINGS, N.C.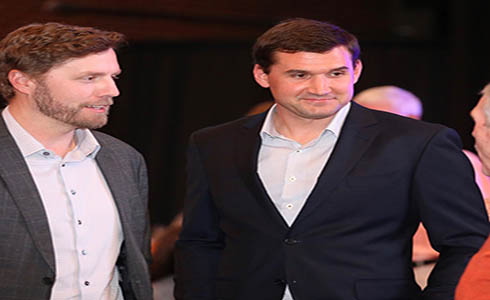 Two former Coastal Plain League players, Mark Reynolds and Ryan Zimmerman, were inducted into the University of Virginia Athletic Hall of Fame earlier this month. Reynolds and Zimmerman both spent the 2003 summer in the CPL, Reynolds with the Fayetteville SwampDogs and Zimmerman with the Peninsula Pilots.
The induction ceremony was held January 27 and included 13 other players in addition to Reynolds and Zimmerman. This marked the inaugural Hall of Fame class for the University of Virginia.
Reynolds, who played at Virginia from 2002-04 and was a 2004 second-team All-ACC selection, has hit 281 major league home runs with seven teams. Most recently he hit 30 home runs to go along with a last season for Colorado.
"It's a great honor to be a member of the inaugural Baseball Hall of Fame class of UVA," said Reynolds. "Playing for the University of Virginia Cavaliers helped me further hone my craft to be able to play at the next level - Major League Baseball."
While with the SwampDogs in 2003, Reynolds batted .196 through 16 games. He tallied a double, three bombs, 10 runs scored and nine RBIs. He was then drafted in the 16th round of the 2004 MLB Amateur draft by the Diamondbacks. After making it to the Double-A affiliate of the Diamondbacks, the Mobile BayBears, where he hit .306 through 34 games with six homers, Reynolds got the call from the big club in May of 2007.
Making it a historic season to look back on now, Zimmerman also patrolled Coastal Plain League infields in 2003 with Peninsula. In total he batted a team-best .331 with 47 hits, including eight doubles, a triple and a homer. He also finished with 19 RBIs, 12 runs scored, 60 total bases and 16 walks. Zimmerman's number in hits, total bases and slugging percentage (.423) were also all Pilots team-highs that season. He was later named to the North CPL All-Star team, where he went 1-for-2. In 2006, the Coastal Plain League honored Zimmerman as a member of its All-Decade Team.
Since that time Zimmerman has put together an impressive MLB resume including a Golden Glove award, two All-Star selections and two silver slugger awards. This past season Zimmerman finished with a .303 batting average to go along with 36 home runs and 108 RBIs while playing for the Washington Nationals.
About the Coastal Plain League:
The Coastal Plain League is the nation's premier summer collegiate baseball league. Heading into its 22nd season in 2018, the CPL features 16 teams playing in Georgia, North Carolina, South Carolina and Virginia. The CPL has had over 1,450 alumni drafted and 109 alums – including 2017 ALCS MVP, 2017 World Series champion, 2011 AL MVP and Cy Young award winner Justin Verlander, as well as 2017 NLCS MVP Chris Taylor – make their Major League debut. For more information on the Coastal Plain League, please visit the league website at CoastalPlain.com, and be sure to follow us on Facebook, Twitter, Instagram and Sanpchat @CPLBaseball.
Contact:
Shelby Hilliard
Phone:
919-852-1960