Updated February 14 2018
HOLLY SPRINGS, N.C.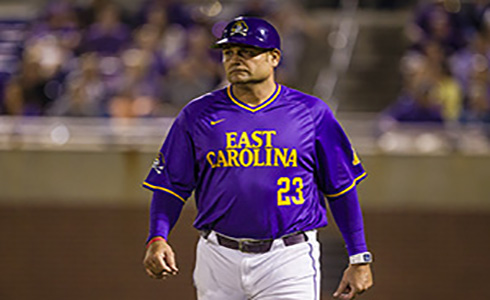 Former Coastal Plain League player and coach Cliff Godwin of East Carolina University selected as an Assistant Coach for the 2018 USA Baseball Collegiate National Team. This will be Godwin's first stint with the Collegiate National team but he has previously worked with the USA Baseball 14U National Team Developmental Program.
Godwin's first experience in the CPL came playing for his hometown team the Wilson Tobs in 1998. He enjoyed his time there so much that once his playing career ended he eventually returned to coach for the Wilmington Sharks.
"It's one of the best leagues in the country," Godwin said. "I feel more than comfortable sending my players there because I know exactly how good of an experience they will be getting. It's a great opportunity for players to get some extra at-bats or innings and come back to us in the fall as better players."
Godwin is set to begin his fourth year at East Carolina University, where he has guided the Pirates to two NCAA Regionals and one Super Regional and a 110-72-1 overall record. Godwin was named the 2015 AAC Coach of the Year after becoming the first coach in ECU history to win 40 games in his first season and guiding his team to a conference tournament title and an NCAA Regional appearance.
The 2018 Collegiate National Team will train at the USA Baseball National Training Complex in Cary, North Carolina, and compete against the Coastal Plain League on June 26th, before hosting the 18th USA vs. Chinese Taipei International Friendship Series from June 28-July 2. All seven of these games will be streamed live on USABaseball.com and Facebook Live.
The team will then host the 42nd USA vs. Japan Collegiate All-Star Series from July 3-9. University of Pittsburgh Head Coach, Joe Jordano, will serve as the official technical commissioner for the series. Jordano is entering his 21st season at the helm for the Panthers and currently ranks among the top-25 active winnings Division I coaches. Finally, Team USA will travel to Cuba for the 7th Annual USA vs. Cuba International Friendship Series that will take place July 13-18.
For more information on the 2018 USA Baseball Collegiate National Team, follow along on Twitter @USABaseball and @USABaseballCNT.
About the Coastal Plain League:
The Coastal Plain League is the nation's premier summer collegiate baseball league. Heading into its 22nd season in 2018, the CPL features 16 teams playing in Georgia, North Carolina, South Carolina and Virginia. The CPL has had over 1,450 alumni drafted and 109 alums – including 2017 ALCS MVP, 2017 World Series champion, 2011 AL MVP and Cy Young award winner Justin Verlander, as well as 2017 NLCS MVP Chris Taylor – make their Major League debut. For more information on the Coastal Plain League, please visit the league website at CoastalPlain.com, and be sure to follow us on Facebook, Twitter, Instagram and Sanpchat @CPLBaseball.
Contact:
Shelby Hilliard
Phone:
919-852-1960