Updated July 06 2017
FOREST CITY, N.C.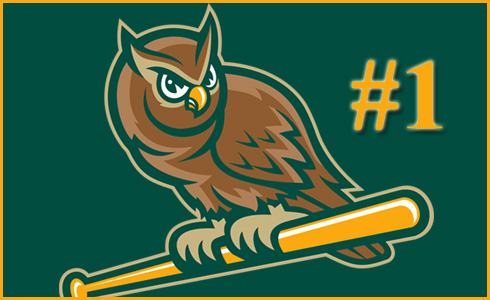 Following their first day off in two weeks, the Owls hosted Gastonia for a Thursday night clash at McNair Field.
Forest City (21-10, 2-2), came out hot in the 1st, scoring six runs in the opening frame.
They knocked out Gastonia starter Blake Waldren (Belmont Abbey) after just one-third of an inning. In that time, the Owls notched five runs, including a three run homerun from Brett Centracchio (Davidson), his second of the year.
Forest City scored their final run of the inning on an RBI double by Mason Dodd (Lander) to bring in John Bennett (Tusculum).

Owl's starter Tyler Lawson (Long Beach State) had a comfortable cushion to work with throughout the majority of his outing. He pitched six innings, surrendering one run on three hits while striking out four.
The lone run he allowed came in the 3rd inning as Joey Smithers (USC-Aiken) drove in Matt McGarry (Belmont Abbey), who doubled to lead off the inning.
The 6-1 lead for Forest City increased in the bottom half of the 3rd with an RBI groundout by Dodd to bring in Centracchio.
In the 4th, the Owls scored two more on a two run homerun (5) by Chris Chatfield (South Florida) to increase the lead to 9-1.
"I figured he was coming with a curveball, that's what they'd been throwing me all day so I put a swing on it," Chatfield said.
In the 5th, Forest City scored three more against Gastonia reliever Sam Turcotte (Stony Brook).
First, it was an RBI single by Hunter Parker (ETSU) to bring in Dodd. Parker was 4-6 on the night with four runs scored and an RBI.
Two batters later, Chatfield continued his terrific night with a two-RBI double down the left field line to bring in Tyler Miller (Anderson) and Parker. Chatfield went 2-3 with two walks, four RBI's and two runs scored.
In the 7th, Forest City scored their final run of the night as Grizzlies pitcher Joe Catalani (UVA Wise) walked in a run with the bases loaded to make it 13-1.
As Lawson exited the game after the 6th for the Owls, Landon Whitson (Lenoir-Rhyne) entered from the bullpen. He worked through two innings, retiring every batter he faced.
In the 9th, Justin Whitely (Montevallo) came in to slam the door, which he did. The Owls bullpen was magnificent, as Forest City pitchers did not allow a hit from early in the 4th until late in the 9th. That, and an explosion of offense, propelled Forest City to a 13-1 victory over Gastonia.
With the win, the Owls increase their lead in the season series against Gastonia to 6-3. They face off a total of 15 times this year.
"It's just a good game for us overall," Owls head coach Matt Reed said. "We have a good group that tends to bounce back. They don't let loses get them down for too long."
Forest City returns to action tomorrow to take on the Asheboro Copperheads at McNair Field at 7:05 p.m. If you can't make it to the ballpark, make sure to tune in live on the Forest City Owls Radio Network.
To find out more about 2017 Owls Season Tickets, please contact the Owls Office at 828-245-0000 or visit the website at www.forestcitybaseball.com.
The Coastal Plain League is the nation's premier summer collegiate baseball league. Celebrating its 22nd season in 2018, the CPL features 16 teams playing in Georgia, North Carolina, South Carolina and Virginia. The CPL has had over 1,450 alumni drafted and 111 of those – including 2011 AL MVP and Cy Young winner Justin Verlander – make their Major League debut; while another notable alum – Russell Wilson – won Super Bowl XLVIII. For more information on the Coastal Plain League, please visit the league website at www.coastalplain.com and follow us via Facebook, Twitter, Instagram and Snapchat @CPLBaseball..
Contact:
Zachary Penrice
Phone:
828-245-0000