Updated August 02 2017
SAVANNAH, GA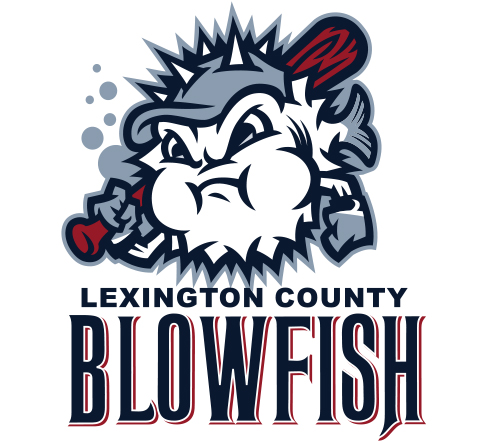 After splitting a double header at home on Tuesday, Lexington County split a double header on the road in Savannah on Wednesday night.
Game one of the twin bill was a continuation of a game scheduled on July 24th. Lexington County led 6-5 in the third but the Bananas stormed back and won 13-8. In total the Bananas clubbed 19 hits en route to the game one win.
The Bananas took the lead in the fifth inning when they plated four runs. Two of those runs came in on a two run double from Brandon Purcell (Jacksonville). Bananas led 9-7 after five.
The Blowfish got a run back in the sixth but never got going after that as Savannah plated a run in the seventh and three in the eighth.
The Blowfish needed a win in game two to stay alive in the playoff chase for the overall standings.
The Blowfish got off and running in game two in the first. After a Jared Williams (USC-Lancaster) double and Nick Guimbarda (Presbyterian) reached on an error, the Blowfish pulled a first and third steal play that gave them a 1-0 lead.
Savannah tied the game in the third with two outs. After an infield single and an error, Logan Mattix (Georgia College) smacked an RBI single that tied the game at 1.
Lexington County got the lead right back in the fourth when Brandt Stallings (Georgia Tech) knocked a single to center. Blowfish led 2-1 until the sixth when they extended their lead.
In the sixth inning, Zach Spivey (Bethune-Cookman) planted an RBI single and pushed their lead to 3-1.
From that point Lexington County cruised and TJ Shook (South Carolina) notched his second win (2-0) in a complete game five hitter.
After the split, the Blowfish are 2.5 GB of first place in the second half and 4.0 GB of fourth place in the overall standings with five games left in the regular season.
Thursday night the Blowfish are back home to welcome on in the Gastonia Grizzlies. Coverage on z93.1 FM The Lake will begin at 6:45 and first pitch from the Lex is scheduled for 7:05.
The Coastal Plain League is the nation's premier summer collegiate baseball league. Celebrating its 22nd season in 2018, the CPL features 16 teams playing in Georgia, North Carolina, South Carolina and Virginia. The CPL has had over 1,450 alumni drafted and 111 of those – including 2011 AL MVP and Cy Young winner Justin Verlander – make their Major League debut; while another notable alum – Russell Wilson – won Super Bowl XLVIII. For more information on the Coastal Plain League, please visit the league website at www.coastalplain.com and follow us via Facebook, Twitter, Instagram and Snapchat @CPLBaseball..
Contact:
Brian Principe
Phone:
803-254-3474