Updated July 06 2017
SAVANNAH, G.A.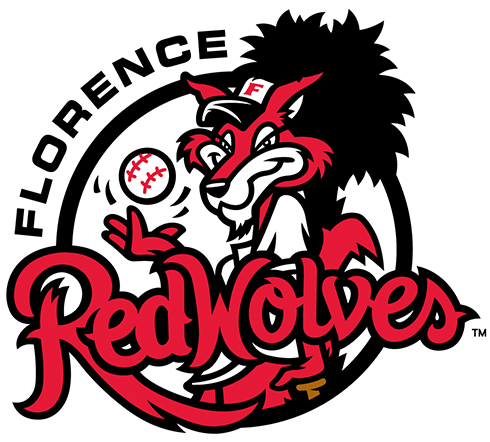 The Florence RedWolves held a 3-2 lead heading into the bottom of the sixth, but the Savannah Bananas racked up an eight-run inning to give them a seven-run advantage and run away with the game in Grayson Stadium Thursday night.
Both teams waited until the fifth inning to really get any offensive production going, but Florence (16-14, 2-1) took full advantage of Ken LaPierre (3-0). The RedWolves scored three runs in the inning that was jump started by back-to-back singles to right by Masen Hibbeler and Riley King. Brandon Chapman moved the runners into scoring postion on a sacrifice bunt, which set up a two-out RBI single to left by Storme Cooper. With runners on the corners, Cooper advanced to second on a wild pitch and both runners were driven in on a Zach Jacobs base hit to right field to take a 3-0 lead.
Savannah (14-15, 1-1) got within a run in the bottom half of the inning scoring twice on a two-RBI single up the middle by Chrisian Hollie. Brandon Cassala and Jacob Southern lead off the inning with back-to-back base hits and moved into scoring position on a wild pitch. With two away, Hollie singled up the middle to make it a 3-2 game.
The Bananas jumped on top of Florence in the bottom of the sixth, putting up an eight-run inning, capitalized by a pinch-hit grand slam from Bryce Fischer. Savannah scored four more runs in the inning to take a 10-3 lead.
Florence scored twice in the seventh, but that would be where the rally would end. After Chapman and Cooper drew walks, Clay Casey belted a two-run double to the wall in left to bring the RedWolves to a 10-5 score. The double extended Casey's hitting streak to 10 games.
RedWolves starting pitcher, Kolton Ingram (1-3) threw exceptionally well for the result that was handed to him. The left-hander from Columbus State pitched five strong innings giving up four runs on five hits, three walks, and a season-high, nine strikeouts.
Florence will be back home Friday, July 7th to take on the Savannah Bananas at 7pm. For more information and tickets visit www.florenceredwolves.com.
- RedWolves -
The Coastal Plain League is the nation's premier summer collegiate baseball league. Celebrating its 22nd season in 2018, the CPL features 16 teams playing in Georgia, North Carolina, South Carolina and Virginia. The CPL has had over 1,450 alumni drafted and 111 of those – including 2011 AL MVP and Cy Young winner Justin Verlander – make their Major League debut; while another notable alum – Russell Wilson – won Super Bowl XLVIII. For more information on the Coastal Plain League, please visit the league website at www.coastalplain.com and follow us via Facebook, Twitter, Instagram and Snapchat @CPLBaseball..
Contact:
Audie Wise
Phone:
(843)-629-0700