Updated July 22 2017
LEXINGTON COUNTY, S.C.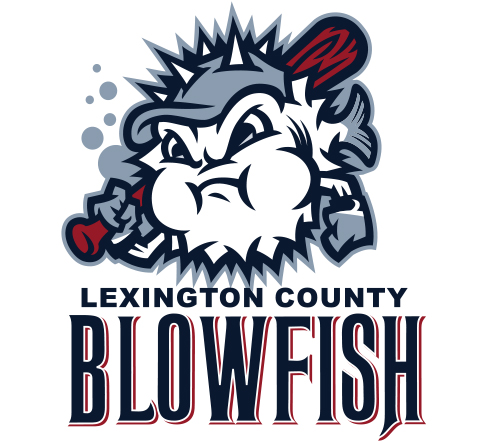 Coming into Saturday night's matchup against Forest City, Lexington County had struck out 47 Owls in just four games. Tonight Blowfish pitching added to that total in a big way.
In a 9-2 win at home, Blowfish pitching notched 14 strikeouts and baffled the Owls all evening long.
Connor Thomas (Georgia Tech) (2-3) picked up six strikeouts in just five innings of work and notched win number two. His second win in as many outings. Lexington County beat up on Tyler McAlister (Missouri State) (0-2) and knocked him out after just three innings of work.
The Blowfish got the scoring going in the first with two outs and nobody on. After back-to-back walks, Riley Hogan (South Carolina) smacked an RBI single that gave Lexington County a 1-0 lead. The very next batter, Dom Cuoci (St. Joseph's) really made the walks pay when he slammed his sixth home run of the season over the left field wall. The three run shot gave the Blowfish a 4-0 lead.
Lexington County got more in the second, two on an Austin Wilhite (Georgia Tech) triple down the right field line and another one home when Drew Ellis (Mt. Olive University) smacked an RBI single to right. The Blowfish led 7-0 into the seventh when they added two more runs extending their lead to nine.
At one point in the ballgame, Thomas retired twelve straight Owls as Forest City was held in check until the ninth when they spoiled the Fish shutout and scored two runs.
The two runs in the ninth were all that the Owls would muster and Lexington County went on to win their fourth straight at the Lex.
The Blowfish move back up to 16-25 overall and 7-7 in the second half. Forest City, who has dropped five of their last six, falls to 24-15 and 6-6. The loss for the Owls also drops them out of first place in the overall standings in the Western Division.

After an off night on Sunday, Monday night the Fish are back on the road in Savannah. Coverage on z93.1 FM The Lake from Grayson Stadium will begin at 6:45 and first pitch between the Blowfish and Bananas is set for 7:05.
The Coastal Plain League is the nation's premier summer collegiate baseball league. Celebrating its 22nd season in 2018, the CPL features 16 teams playing in Georgia, North Carolina, South Carolina and Virginia. The CPL has had over 1,450 alumni drafted and 111 of those – including 2011 AL MVP and Cy Young winner Justin Verlander – make their Major League debut; while another notable alum – Russell Wilson – won Super Bowl XLVIII. For more information on the Coastal Plain League, please visit the league website at www.coastalplain.com and follow us via Facebook, Twitter, Instagram and Snapchat @CPLBaseball..
Contact:
Brian Principe
Phone:
803-254-3474