Updated February 20 2018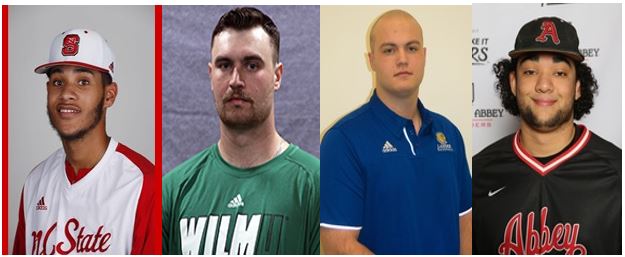 The Wilson Tobs are excited to announce the first four pitchers set to join the Tobs' roster for 2018. Sean Deely (Wilmington University), Tripper Ergle (Lander), and Griffin Baker (Belmont Abbey) will be hurling the baseball 60 feet 6 inches all summer at Historic Fleming Stadium. Last, but certainly not least, local standout from Rocky Mount, David Harrison (North Carolina State) will be playing right here on familiar grounds.
A name many people in Wilson may have heard before is David Harrison. He was the 2016 All-Area Pitcher of the Year and played under the legendary Pat Smith at Rocky Mount Senior High School. He closed his junior campaign with 88 strikeouts in 63 innings. His senior year he posted a 13-2 record on the mound for the Gryphons. Now a freshman at North Carolina State University, Harrison is the Sunday starter in the weekend rotation for the Wolfpack. The 6'5 left-hander will rely on his newly developed change-up and his powerful curveball to get him out of jams. Starting on weekends in ACC play will certainly have Harrison geared up and ready to hit the mound at Fleming Stadium. His ability to command three pitches in any count, while being able to throw the fastball up into the low 90 mph range will be exciting to watch.
Deely has a big frame and a dominant personality. Two things that would be every pitcher's dream to have. The 6'5, 245 lb. redshirt-junior will be the number one starter for Wilmington University this spring. Upon arriving in Wilson, Deely will be in the rotation and will set the tone for the Tobs staff. His mix of power and command, plus his experience on the mound will be what he relies on. In 2017, he posted a 7-1 record and a 1.61 ERA. He posted a perfect 5-0 record in conference play and averaged 10 strikeouts a game. His ability to minimize big innings and hold the other team to a low run total will be his strongest asset.
Tripper Ergle, the 6'3, 260 lb junior bearcat from Lander University is the next arm to announce. He is a staple in the Lander pitching rotation. He will start or appear out of the bullpen in big games. He is off to a solid start in his 2018 season logging 17 innings and 4 appearances in just 9 games. Ergle is no stranger to the Coastal Plain League. He played for the Florence Red Wolves last summer and was very successful in this league prior to joining the Wilson Tobs. He will be a groundball pitcher, meaning fielders will love to play behind him. His high intensity levels and winner's mentality will mesh well with the personnel Coach Bryan Hill has assembled.
Another left-handed arm to join the Tobs this summer is Griffin Baker of Belmont Abbey College. Baker appeared out of the bullpen and had some spot starts with the Crusaders in 2017. He has an upper 80's fastball and a strong breaking ball. His intensity on the mound is unmatched and is known for bringing high energy to his team to provide that extra spark. He will appear out of the bullpen and be a solid mid-week starter for Belmont Abbey who is returning a senior heavy starting rotation that had a very successful 2017 campaign. The team won 37 games and was one win away from winning the Conference Carolina's championship. Look for Baker to appear in the Tobs starting rotation come May 27th.
The Wilson Tobs home opener and Firework Show for the 2018 season is Sunday, May 27th @ 6 PM. Season tickets and ticket packages are on sale now and can be purchased by calling (252) 291-8627, or by visiting www.wilsontobs.com/tickets.
The Wilson Tobs enter their 22nd season as a founding member of the Coastal Plain League. The upcoming season for the Tobs will see an expanded community outreach effort, increased participation in helping the less fortunate, a Pettit Cup Championship team, and more exciting entertainment for the Wilson Community. We would like to dedicate each successful season to the Wilson Community, Coastal Plain League Organization, Host Families, Corporate Partners, and the Dedicated Fans throughout the city of Wilson. The Wilson Tobs have played host to over 100 alumni taken in the draft and have produced a dozen players who have gone on to play in the MLB, including Cy Young & MVP winner Justin Verlander.
For more information on the Wilson Tobs, visit our website www.wilsontobs.com.
The Coastal Plain League is the nation's premier summer collegiate baseball league. Celebrating its 22nd season in 2018, the CPL features 16 teams playing in Georgia, North Carolina, South Carolina and Virginia. The CPL has had over 1,450 alumni drafted and 111 of those – including 2011 AL MVP and Cy Young winner Justin Verlander – make their Major League debut; while another notable alum – Russell Wilson – won Super Bowl XLVIII. For more information on the Coastal Plain League, please visit the league website at www.coastalplain.com and follow us via Facebook, Twitter, Instagram and Snapchat @CPLBaseball..
Contact:
Mike Bell
Phone:
(252) 291-8627