Updated August 30 2017
HOLLY SPRINGS, N.C.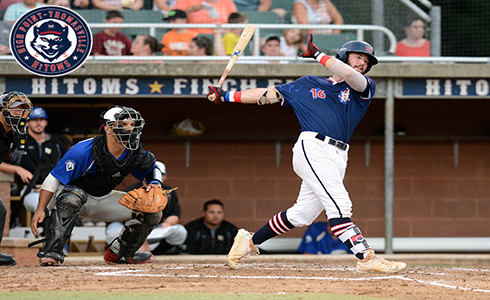 The Coastal Plain League announced today that Evan Edwards (picture courtesy Michael Lindsay, High Point Enterprise) of the High Point-Thomasville HiToms has been named the 2017 CPL Hitter of the Year. This was Edwards second season in the CPL, both with the HiToms.
Standing at 6-0, 195, Edwards was first in the CPL with a .703 slugging percentage (good for third best in CPL history), first in on-base at .405, second in the CPL with a .335 batting average, tied for second with 13 home runs and third in total bases at 109. In addition to these numbers, the first-baseman finished the year with 55 total hits across 47 games played including 13 doubles, one triple and 37 RBIs while also drawing 29 walks and scoring 35 runs.
He helped lead the HiToms to a 29-25 regular season record and number three seed in the 2017 Petitt Cup Playoffs. Joining the team as an unsigned Junior College transfer that was considering a number of offers, Edwards used his 2017 summer to help solidify a commitment with NC State where he will playing this upcoming season.
Edwards was also named the First Team All-CPL first baseman, the full list will be announced later this week. All player awards are selected after gathering feedback from coaches as well as team and league officials.
The Coastal Plain League is the nation's premier summer collegiate baseball league. Set to begin its 22nd season in 2018, the CPL features 16 teams playing in Georgia, North Carolina, South Carolina and Virginia. The CPL has had over 1,400 alumni drafted and 108 of those – including 2011 AL MVP and Cy Young winner Justin Verlander – make their Major League debut; while another notable alum – Russell Wilson – won Super Bowl XLVIII. For more information on the Coastal Plain League, please visit the league website at www.coastalplain.com and follow us via Twitter @CPLBaseball.
Contact:
Shelby Hilliard
Phone:
919-852-1960