Updated October 11 2017
EDENTON, N.C.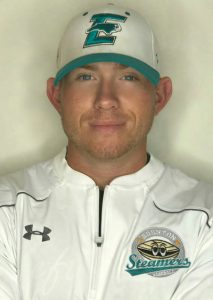 The Edenton Steamers organization is pleased to announce that Russ Burroughs has been hired as the new head coach for the 2018 season. Burroughs is currently the Head Baseball Instructor at Nashville Baseball Academy in Nashville, Tennessee. He is currently in his ninth year with the academy.
Burroughs will be making his return to the Steamers organization next summer. He served as the Pitching Coach for the Steamers this past season. During the 2017 campaign, Burroughs' pitching staff was ranked 3rd in fewest hits allowed and 3rd in strikeouts. He directed the eventual CPL saves leader, Carmen Giampetruzzi, who had nine saves on the year. He also helped guide Carlos Pimentel toward signing a free agent contract with the Houston Astros.
"I am extremely honored to be given this opportunity to lead the Teal and Black." stated Burroughs. "The Steamers are an iconic team when it comes to Collegiate Summer Baseball. My goal is to bring a professional and winning atmosphere back to the great town of Edenton." Burroughs said.
Burroughs will replace Dustin Coffman at the helm of the Clams. Coffman returned to Edenton last summer after first gaining experience with the organization as an assistant coach in 2010. After missing the playoffs in 2016, Coffman led the Steamers back to the Petitt Cup Playoffs while posting a record of 32-27.
"The Steamers are very excited to bring Russ back for 2018. We think that he is the right guy to lead our team moving forward." said General Manager Tyler Russell. "This past summer, Russ and the players seemed to bond really well. He also embraced the unique culture of the Town of Edenton and Historic Hicks Field. I believe that he will be a great coach for our guys, as he is certainly committed to helping them take that step to the next level." Russell added.
Burroughs and Russell have already begun constructing the roster for the 2018 season. "Russ and I have already been hard at work this offseason with finding our next crop of players. We look forward to not only putting a good product on the field, but having an outstanding group of young men that will make this town proud." Russell stated.
Burroughs played four seasons of professional baseball. He spent three years in Independent Baseball, and one year in International Baseball. During his time in professional baseball, he was used as a spot starter and left-handed specialist out of the bullpen.
As previously mentioned, Burroughs is currently spending the offseason with the Nashville Baseball Academy. While there, he trains clients of all ages and skill levels, ranging from beginner to professional. Burroughs also works for Sidearm Nation, traveling around the world as a specialty instructor. He helps pitchers develop the fine art of throwing from sidearm and submarine arm angles.
Burroughs graduated from Lipscomb University in 2009 with a Bachelor's degree in Mass Communications. He currently resides in Nashville, Tennessee.
Photo credit by @WLH
The Coastal Plain League is the nation's premier summer collegiate baseball league. Celebrating its 22nd season in 2018, the CPL features 16 teams playing in Georgia, North Carolina, South Carolina and Virginia. The CPL has had over 1,450 alumni drafted and 111 of those – including 2011 AL MVP and Cy Young winner Justin Verlander – make their Major League debut; while another notable alum – Russell Wilson – won Super Bowl XLVIII. For more information on the Coastal Plain League, please visit the league website at www.coastalplain.com and follow us via Facebook, Twitter, Instagram and Snapchat @CPLBaseball..
Contact:
Tyler Russell
Phone:
252-482-4080