Updated July 25 2017
WILMINGTON, N.C.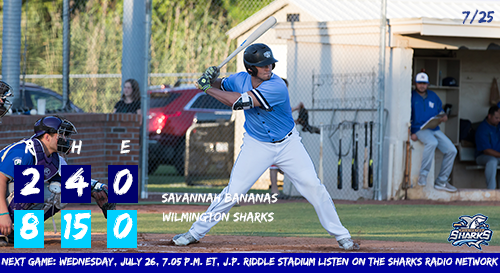 Sharks Week has been kind to the Wilmington Sharks (25-19) so far. 7 runs in the first 3 innings were the difference in the 8-2 victory over Savannah (21-20).
In the first, Justin Dean walked to lead off the inning and Michael Sandle followed with a single up the middle. After a Luke Morgan fielder's choice, Trevor McCutchin doubled over the left fielder's head to drive home both Sharks' runners. With two outs in the inning, Ward Coleman singled home McCutchin and advanced to second on the throw home. The ensuing batter, Danny Wondrack, put the Sharks up four with an RBI single to right field.
Savannah answered with a solo home run to lead off the second inning by John Cassala. However, the Sharks tacked on two more in the bottom of the frame. The first ran came across on the Trevor McCutchin's third RBI of the night and 41st of the season. Then Michael Sandle scored from third base on a wild pitch by Bananas starter Elliot Forde.
Wilmington scored one more in the third on a two out single by Dan Wilson. The single by Wilson extended hitting streak to seven straight games. The Sharks tacked on its final run of the contest on a single by Luke Morgan with 2 outs in the bottom of the sixth.
The visitors added one more run in the 9th inning off Sharks reliever Caleb Bishop.
Both starters factored into the decision. Noah Michael (4-1) picked up the win in 7 innings of work, allowing 1 run on 2 hits with 2 walks and 5 strikeouts. Elliot Forde (3-3) allowed 8 runs on 15 hits and lost for the Bananas.
Wilmington has now won 7 straight games and are 2-0 during Shark Week. The Sharks are 12-4 in the second half, which leads the East Division and 25-19 overall.
Wilmington hits the road tomorrow to a place they know all too well, Fayetteville. First pitch from The Swamp is at 7:05. Coverage begins at 6:50 on the Sharks Radio Network.
The Coastal Plain League is the nation's premier summer collegiate baseball league. Celebrating its 22nd season in 2018, the CPL features 16 teams playing in Georgia, North Carolina, South Carolina and Virginia. The CPL has had over 1,450 alumni drafted and 111 of those – including 2011 AL MVP and Cy Young winner Justin Verlander – make their Major League debut; while another notable alum – Russell Wilson – won Super Bowl XLVIII. For more information on the Coastal Plain League, please visit the league website at www.coastalplain.com and follow us via Facebook, Twitter, Instagram and Snapchat @CPLBaseball..
Contact:
Sam Rubinoff
Phone:
5617169672