Updated March 12 2018
EDENTON, N.C.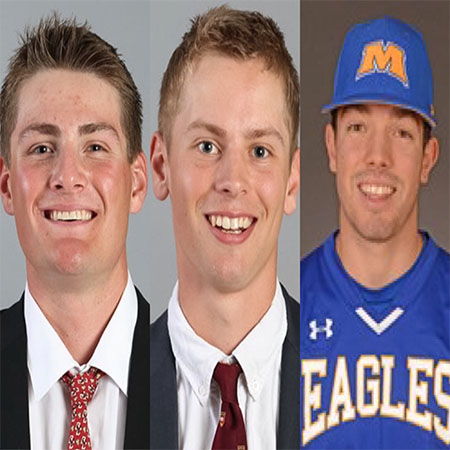 The Edenton Steamers have announced their newest additions to the 2018 roster.
Boston College's Matt Gill and Jack Hodgson, along with TJ Satterly of Morehead State, will all pitch for Edenton this summer.
Gill, a 6'5" 240-pound sophomore, adds plenty of size to the Steamers roster.
"He's a big guy. He's very versatile and we can use him to start or relief," said head coach Russ Burroughs.
The Simsbury, CT native is off to a hot start this spring for the Eagles. Through four appearances, Gill holds a 1-0 record with a 2.45 earned run average spanning 7.1 innings.
The other Boston College player, Hodgson, is enjoying his freshman season so far. Coming out of the bullpen twice, the 6'2" 200-pound right-hander has yet to allow a run to score.
Hailing from Guilford, CT, Hodgson was ranked the second best overall player by Perfect Game USA coming out of the Constitution State.
"When we have the option of getting somebody with those kind of accolades, I think that'll do very well for our community," Burroughs said.
"He's going to be a really good reliever for us."
Having three players fill the roster in 2017 out of Boston College, Coach Burroughs is excited to welcome a couple more Eagles.
"We were fortunate to have some Boston College guys last summer. As a program, Boston College is very hard-working and a 'get your hands dirty' kind of team," he said.
TJ Satterly will also be an important arm for Edenton out of the bullpen.
"I think TJ can be that setup guy for us or maybe even be a closer," Burroughs said.
"If he can be consistent and keep the walks down, I don't see any reason why he can't work up to being our closer."
A junior, the Louisville, KY native has seen action in three games. Standing at 6'3" 195 pounds, Satterly has struck out two batters over that span.
Edenton continues to equip more pitchers to prepare for the long summer season with each arm expected to contribute greatly.
Opening Day at Historic Hicks Field is on May 31st, as the Steamers host the Holly Springs Salamanders. Season tickets and ticket packages are on sale now and can be purchased by stopping by the Steamers office, or calling us at (252) 482-4080.
The Edenton Steamers are entering their 21st season as a member of the Coastal Plain League in 2018. Be sure to follow the Teal and Black on social media to stay up to date with all things Steamers.
You can find the team on Facebook @EdentonSteamers, Twitter @EdentonCPL, Instagram @edentonsteamers and Snapchat @edentonsteamers.
The Coastal Plain League is the nation's premier summer collegiate baseball league. Celebrating its 22nd season in 2018, the CPL features 16 teams playing in Georgia, North Carolina, South Carolina and Virginia. The CPL has had over 1,450 alumni drafted and 111 of those – including 2011 AL MVP and Cy Young winner Justin Verlander – make their Major League debut; while another notable alum – Russell Wilson – won Super Bowl XLVIII. For more information on the Coastal Plain League, please visit the league website at www.coastalplain.com and follow us via Facebook, Twitter, Instagram and Snapchat @CPLBaseball..
Contact:
PJ Potter
Phone:
(252) 482-4080