Updated July 20 2017
WILMINGTON, N.C.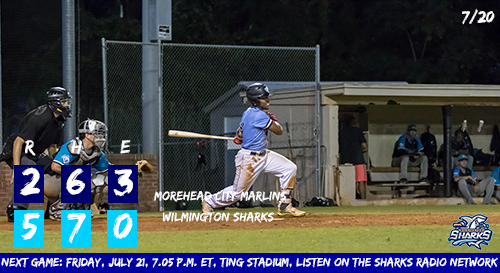 For the second straight night, the Sharks (21-19) and the Marlins (16-21) squared off against one another. The Sharks looked to continue its six game winning streak against Morehead City.
In the bottom of the 1st, Luke Morgan picked up right where he left off the night before. In the ninth in Morehead City, Morgan hit a solo home run to left center field. In his first at bat tonight, the shortstop crushed the fourth pitch he saw over the left field wall.
Through the first 5 innings, Sharks starter Colby Lee was dealing. The freshman, struck out 8 batters, while allowing two hits, no runs and just 1 walk. In the bottom of the fifth, Dan Wilson singled home Danny Wondrack to put the Sharks on top 2-0.
In the ensuing frame, the Marlins scored on back-to-back doubles by Jackson Ware and Randy Perez. Then with Perez on third, Alec Wilson grounded back to Colby Lee. The pitcher then flipped the ball from his glove home to keep the Sharks lead 2-1. In the bottom half of the sixth, Wilmington added two more runs. With 1 out and runners on second and third, Brian Parreira singled into right field to score Luke Morgan and Trevor McCutchin.
Morehead scored again in the seventh inning. Daulton Weeks doubled to start the inning and came home on a single by Kyle Skeels.
Wilmington tacked on one more insurance run in the bottom of the 8th. Dan Wilson singled against reliever Octavio Mirabal to score Danny Wondrack.
Evan Brabrand came out of the bullpen to close it out for the Sharks to pick up his 5th save of the season. Colby Lee (3-3) earned the win, while Luke Sleeper (0-1) lost his first decision.
Colby Lee's final line on the night was 7 innings, 2 runs, 6 hits, 11 strikeouts and 1 walk. The 11 K's were the second most by a Sharks pitcher this summer.
Wilmington is now 8-4 in the 2nd half and 9-4 this summer against Morehead City. The Sharks have also won the last 7 games against the Marlins.
Wilmington heads to Holly Springs tomorrow night. First pitch from Ting Stadium is at 7:05. Coverage begins at 6:50 on the CPL Webpass.
The Coastal Plain League is the nation's premier summer collegiate baseball league. Celebrating its 22nd season in 2018, the CPL features 16 teams playing in Georgia, North Carolina, South Carolina and Virginia. The CPL has had over 1,450 alumni drafted and 111 of those – including 2011 AL MVP and Cy Young winner Justin Verlander – make their Major League debut; while another notable alum – Russell Wilson – won Super Bowl XLVIII. For more information on the Coastal Plain League, please visit the league website at www.coastalplain.com and follow us via Facebook, Twitter, Instagram and Snapchat @CPLBaseball..
Contact:
Sam Rubinoff
Phone:
5617169672