Updated July 22 2017
WILMINGTON, N.C.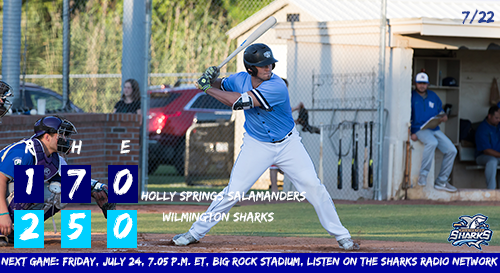 The Sharks (22-19) and Salamanders (18-24) met for a second night in a row, following Wilmington's 6-5 win over Holly Springs.
Daniel Johnson (5-2) came out dealing for the Sharks. Johnson recorded five strikeouts through the first three innings.
In the bottom of the 3rd, Johnson got all the run support that he would need. Wilmington scored on Justin Dean's RBI ground out after Ward Coleman, Ben Highfill and Dan Wilson loaded the bases with 2 walks and a single. Then with runners on the corners, Salamanders start Jake Lewis balked home the Sharks second run.
The visitors responded with a lead off solo home run by Adam Sisk in the 4th inning. Sisk would be the final player to reach home safely.
From that point, Daniel Johnson scattered four more hits through 3.2 innings. The southpaw's final line was 7.2 innings, 1 earned run on 6 hits, 2 walks and 8 strikeouts.
With 2 on and 2 out in the top of the 8th, Ryan Hedrick came on to strikeout Sisk to end the Salamanders threat. Then in the top of the 9th, Hedrick allowed a leadoff double to Jacob Jaye who then reached third with just one out. The junior from Presbyterian worked back-to-back groundouts to leave the tying run 90 feet away.
Daniel Johnson was the winning pitch, while Jake Lewis (1-2) lost for Holly Springs. The save was Ryan Hedrick's second of the season.
The Sharks have won 5 in a row and are 10-4 in the second half and 23-19 overall.
Wilmington is off tomorrow and travels to Morehead City on Monday. First pitch from Big Rock Stadium is at 7:05. Coverage begins at 6:50 on the CPL Webpass.
The Coastal Plain League is the nation's premier summer collegiate baseball league. Celebrating its 22nd season in 2018, the CPL features 16 teams playing in Georgia, North Carolina, South Carolina and Virginia. The CPL has had over 1,450 alumni drafted and 111 of those – including 2011 AL MVP and Cy Young winner Justin Verlander – make their Major League debut; while another notable alum – Russell Wilson – won Super Bowl XLVIII. For more information on the Coastal Plain League, please visit the league website at www.coastalplain.com and follow us via Facebook, Twitter, Instagram and Snapchat @CPLBaseball..
Contact:
Sam Rubinoff
Phone:
5617169672