Updated July 25 2014
THOMASVILLE, N.C.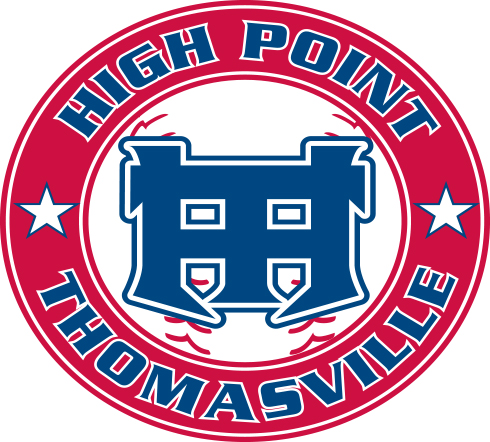 After trailing by four runs through five innings, the High Point-Thomasville HiToms roared back to beat the Martinsville Mustangs 9-8 Friday for their fourth straight win.
Martinsville jumped ahead 4-0 in the first inning after Kevin Mahala ripped a RBI single and two batters later Kyle Nowlin cracked a three-run home run to right-center field. The HiToms responded quickly in the bottom half, however, when Joey Havrilak (Akron) doubled to right field and Austin Crutcher (Bellarmine) picked him up with a two-run homer to left field narrowing the HiToms' gap, 4-2.
One frame later with a runner at second, Logan Taylor (Louisville) smacked a RBI single to center field and advanced to third with an error and a stolen base before Bradley Morton (Appalachian State) tied the game at four with an infield RBI single.
The Mustangs refused to take the draw lying down. In the top of the fourth with runners at second and third, Kyle Carruthers hit a two-run double to left field. Ryan Hissey followed him with a RBI single to bring Martinsville's advantage to 7-4.
But as the HiToms have had a tendency to do throughout their hot stretch, they brought the bats out late.
Trailing 8-5 in the bottom of the seventh inning, Pete Guy (UNC-Asheville) and Glen Batson (Clemson) hit back-to-back solo shots to bring High Point-Thomasville within one before Morton struck with his second RBI single of the game to tie the score at eight apiece. One pitch into the eighth, Crutcher untied the game with his second homer of the game – his CPL-best tenth of the season – to give the HiToms the lead for good.
Justin Morrison (Guilford, 2-0) earned the win in relief throwing two shutout innings allowing two hits and striking out four. Laetten Galbraith (Louisiana Tech) stranded the tying run at second in the ninth to earn his sixth save of the year.
The HiToms, a half-game out of the final playoff spot in the CPL West, will host the Asheboro Copperheads Saturday night at Finch Field. First pitch is scheduled for 7 P.M.
The Coastal Plain League is the nation's premier summer collegiate baseball league. Celebrating its 22nd season in 2018, the CPL features 16 teams playing in Georgia, North Carolina, South Carolina and Virginia. The CPL has had over 1,450 alumni drafted and 111 of those – including 2011 AL MVP and Cy Young winner Justin Verlander – make their Major League debut; while another notable alum – Russell Wilson – won Super Bowl XLVIII. For more information on the Coastal Plain League, please visit the league website at www.coastalplain.com and follow us via Facebook, Twitter, Instagram and Snapchat @CPLBaseball..
Contact:
Phone: