Updated April 02 2018
EDENTON, N.C.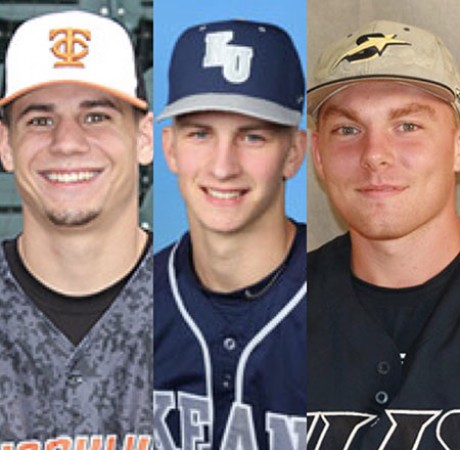 The Edenton Steamers have announced the addition of three new pitchers to the 2018 roster.
Charles Hall (Tusculum College), Tyler Hopman (Kean University) and R.D. Lutze (University of Illinois Springfield) will all be throwing meaningful innings out of the bullpen for the Steamers this summer.
Hall, a 6'0" 165-pound junior, is off to an impressive start for Tusculum. The Dumfries, VA native sports a 3-1 record with one save over 11 appearances.
A right-hander, Hall has a 3.80 earned run average in 45 innings with 43 strikeouts.
"He has a lot of innings, so the coaches must trust him in many situations. He could be a long relief guy for us and step in when the starters struggle," head coach Russ Burroughs said. "He might even be a spot starter if needed."
Hopman, a 6'6" 205-pounder from Old Bridge, NJ, has seen a jump in strikeouts this year in his junior season.
A career 5.81 strikeouts per nine innings, Hopman has 18 punch-outs in 19.1 innings, which makes for an 8.38 K/9 this year.
Hopman comes in to Edenton with a rare weapon – he can throw with both hands.
"He's a switch pitcher. I'm most excited to see what the hitters will do when he switches hands," Burroughs said.
"I don't see why an affiliated team wouldn't want to check him out."
A mental distraction to his opponents, Hopman is 2-1 for Kean this season in three starts with a 3.72 ERA.
Hailing from Lisbon, IL, Lutze and his Illinois Springfield team are experiencing a memorable season.
A record standing at 23-4, including a 15-game winning streak, Lutze is contributing out of the bullpen. The 6'3" 220-pound righty holds a 3.24 ERA in nine relief appearances with 13 strikeouts.
"He's a one-inning guy. I see him coming in after our starter went five or six innings and be the bridge to set up the back end of the bullpen," Burroughs said. "He could even be that setup guy if need be."
The sophomore has logged 8.1 innings.
With slightly different expected roles, all three pitchers will anchor the Steamers bullpen.
Opening Day at Historic Hicks Field is on May 31st, as the Steamers host the Holly Springs Salamanders. Season tickets and ticket packages are on sale now and can be purchased by stopping by the Steamers office, or calling us at (252) 482-4080.
The Edenton Steamers are entering their 21st season as a member of the Coastal Plain League in 2018. Be sure to follow the Teal and Black on social media to stay up to date with all things Steamers.
You can find the team on Facebook @EdentonSteamers, Twitter @EdentonCPL, Instagram @edentonsteamers and Snapchat @edentonsteamers.
For more information visit edentonsteamers.com or call (252) 482-4080.
The Coastal Plain League is the nation's premier summer collegiate baseball league. Celebrating its 22nd season in 2018, the CPL features 16 teams playing in Georgia, North Carolina, South Carolina and Virginia. The CPL has had over 1,450 alumni drafted and 111 of those – including 2011 AL MVP and Cy Young winner Justin Verlander – make their Major League debut; while another notable alum – Russell Wilson – won Super Bowl XLVIII. For more information on the Coastal Plain League, please visit the league website at www.coastalplain.com and follow us via Facebook, Twitter, Instagram and Snapchat @CPLBaseball..
Contact:
PJ Potter
Phone:
(252) 482-4080