Updated March 26 2018
EDENTON, N.C.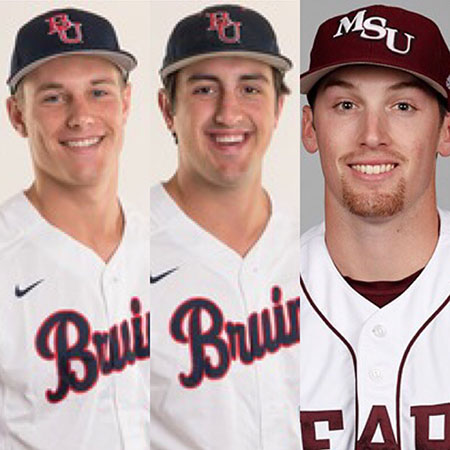 The Edenton Steamers have announced the signing of three new players for the 2018 season.
Devon Gardner and Casey Queener from Belmont University and Ben Whetstone from Missouri State are set to compete for the Steamers.
Once again, Edenton has packaged another duo of teammates from a program. Head coach Russ Burroughs, however, didn't have to travel too far to find the two Belmont Bruins.
"They're in my backyard in the Nashville area," Burroughs said. "I always like a few guys from around here since this a great baseball area. There's a lot of continuity at Belmont."
Gardner, a 6'0" 185-pound junior from Maryville, TN, will play in the outfield.
Hitting .275 with two home runs and four doubles, Gardner is expected to hold down a spot in the middle of the lineup.
"We needed a solid and big outfielder to hit for power," Burroughs said.
"He can generate insurance as a guy in our five or six hole and definitely get the job done."
Gardner's teammate at Belmont, Queener, will be a starting pitcher.
"I've had the opportunity to watch Casey pitch two or three times. I think he will be our Opening Day starter. He has a great curveball and off-speed pitches," Burroughs said.
A 6'1" 200-pound junior, Queener holds a 2-2 record through six starts this season. The Brentwood, TN native has 40 strikeouts in 35.2 innings.
Missouri State's Ben Whetstone will play first base for the Steamers.
"When we get off the bus, he's the first one to get off to intimidate the opposition," Burroughs said.
Standing at 6'6" 240 pounds as a sophomore, Whetstone brings size along with power and experience.
Coming from a program that went as far as the Super Regional in 2017, Coach Burroughs thinks he brings a level of maturity with a winning mentality.
"He's experienced with going on deep runs. Being in those certain situations, he's used to hostile environments. Nothing will shake him and that can help guide and calm the team in pressure situations," Burroughs said.
From Overland Park, KS, Whetstone has clobbered four home runs and 13 runs batted in 22 games.
"Ideally, he can be our third or fourth hitter in the lineup. I see a lot of power and home runs from him," Burroughs said.
Opening Day at Historic Hicks Field is on May 31st, as the Steamers host the Holly Springs Salamanders. Season tickets and ticket packages are on sale now and can be purchased by stopping by the Steamers office, or calling us at (252) 482-4080.
The Edenton Steamers are entering their 21st season as a member of the Coastal Plain League in 2018. Be sure to follow the Teal and Black on social media to stay up to date with all things Steamers.
You can find the team on Facebook @EdentonSteamers, Twitter @EdentonCPL, Instagram @edentonsteamers and Snapchat @edentonsteamers.
For more information visit edentonsteamers.com or call (252) 482-4080.
The Coastal Plain League is the nation's premier summer collegiate baseball league. Celebrating its 22nd season in 2018, the CPL features 16 teams playing in Georgia, North Carolina, South Carolina and Virginia. The CPL has had over 1,450 alumni drafted and 111 of those – including 2011 AL MVP and Cy Young winner Justin Verlander – make their Major League debut; while another notable alum – Russell Wilson – won Super Bowl XLVIII. For more information on the Coastal Plain League, please visit the league website at www.coastalplain.com and follow us via Facebook, Twitter, Instagram and Snapchat @CPLBaseball..
Contact:
PJ Potter
Phone:
(252) 482-4080