Updated August 28 2017
HOLLY SPRINGS, N.C.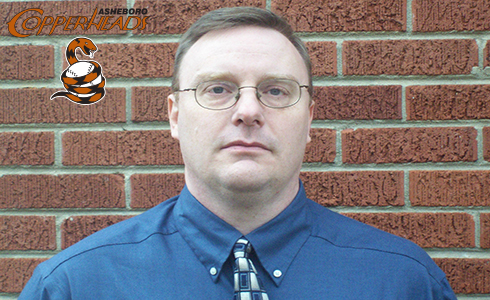 The Coastal Plain League announced August 28 that Brian Joura of the Asheboro Copperheads was named the 2017 CPL Scorekeeper of the Year. This was Joura's ninth season with the Copperheads and the seventh year the CPL has named a Scorekeeper of the Year.
"I'm very grateful for this award from the Coastal Plain League," said Joura. "I'd like to thank former Copperheads General Manager David Camp and the Copperhead front office for giving me the opportunity."
A CPL scorekeeper holds duties such as scoring each game both in hard copy form, as well as updating the live stats in real time for fans following along at home. Each night they also must send in the stat file and nightly game report to the league office to be published online. Joura was selected based on his ability to complete both of these tasks promptly and accurately, showing a great aptitude for the stats program and scoring a game overall.
Joura began his time with the Copperheads covering their games for the local newspaper when he planted the seed that he knew how to work the scoring system the Copperheads were using with then GM David Camp. From there the team used him as a backup scorer for a couple seasons before he took over the job full-time in 2009. This is Joura's first Scorekeeper of the Year award, following last year's winner Brandon Plotnick of the Fayetteville SwampDogs.
The Coastal Plain League is the nation's premier summer collegiate baseball league. Set to begin its 22nd season in 2018, the CPL features 16 teams playing in Georgia, North Carolina, South Carolina and Virginia. The CPL has had over 1,400 alumni drafted and 108 of those – including 2011 AL MVP and Cy Young winner Justin Verlander – make their Major League debut; while another notable alum – Russell Wilson – won Super Bowl XLVIII. For more information on the Coastal Plain League, please visit the league website at www.coastalplain.com and follow us via Twitter @CPLBaseball.
Contact:
Shelby Hilliard
Phone:
919-576-4049