Updated July 27 2017
MARTINSVILLE, VA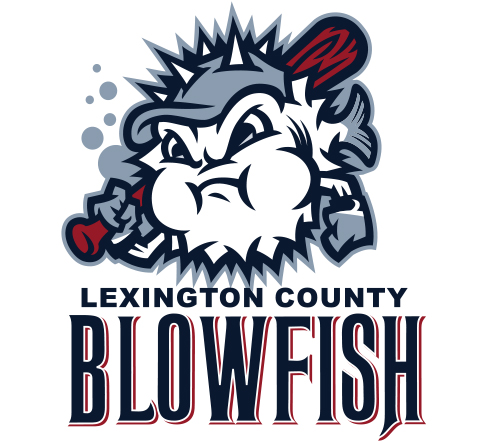 Coming into Thursday night, the longest winning streak for Lexington County was three straight. After a date with the Mustangs in Martinsville, that changed.
The Blowfish knocked off the Stangs 4-1 at Hooker Field and won their fourth straight.
TJ Shook (South Carolina) went five innings of good ball notching his first win of 2017 (1-0).
The Blowfish got the scoring going in the fourth. Randal Ortiz (Winston-Salem) knocked in the game's first run with an RBI single. Mickey Dugan (Gardner-Webb) followed it up with an RBI single of his own and extended his hit streak to 13 straight games. 2-0 Fish after four.
Lexington County doubled up on their advantage in the top of the sixth. Dugan slammed his second home run of the season. The two run blast put the Blowfish in front 4-0.
The Mustangs got an unearned run back in the bottom of the sixth inning but three double plays in the ballgame doomed Martinsville. Two of those DPs ended innings that that the Mustangs had two on and threatening in the game.
Martinsville's biggest threat came in the ninth inning. With two outs the Mustangs loaded the bases but Hunter Dollander (USC-Aiken) was able to get the game ending groundout and notched his 6th save of 2017.
The win for Lexington County marked their fourth straight and also moved them within 2.5 games behind High Point-Thomasville for first place in the second half standings.
After a off night on Friday night, Saturday night marks a huge matchup against Savannah for the Blowfish. Coverage on z93.1-FM The Lake will begin at 6:45 and first pitch from the Lex is slated for 7:05.
The Coastal Plain League is the nation's premier summer collegiate baseball league. Celebrating its 22nd season in 2018, the CPL features 16 teams playing in Georgia, North Carolina, South Carolina and Virginia. The CPL has had over 1,450 alumni drafted and 111 of those – including 2011 AL MVP and Cy Young winner Justin Verlander – make their Major League debut; while another notable alum – Russell Wilson – won Super Bowl XLVIII. For more information on the Coastal Plain League, please visit the league website at www.coastalplain.com and follow us via Facebook, Twitter, Instagram and Snapchat @CPLBaseball..
Contact:
Brian Principe
Phone:
803-254-3474