Updated July 18 2017
LEXINGTON COUNTY, S.C.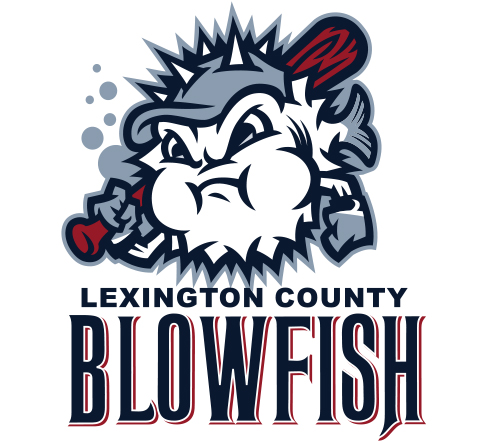 After back-to-back rainouts, the Blowfish played their first game in four days Tuesday night against Savannah
After the Bananas jumped out ahead early the Blowfish climbed back and knocked off Savannah 7-4 from the Lex.
Savannah got the scoring started in the second, on an LJ Talley (Georgia) two run home run to right center. Talley's first of the season gave the Bananas a 2-0 lead.
Lexington County cut the lead in half in the bottom of the inning when Austin Wilhite (Georgia Tech) plated Riley Hogan (South Carolina) from second to make it 2-1.
The Bananas bats exploded again in the third inning. The Blowfish gave up back-to-back jacks for the first time this summer. Christian Hollie (UT-Arlington) and Bryce Fishcer (Oklahoma State) smacked solo home runs to inflate the lead to 4-1.
But the Blowfish responded in the home half of the third.
Dom Cuoci (St. Joseph's) smacked his team leading fifth home run of 2017. His three run bomb tied the game at 4.
The Blowfish took the lead in the fifth on a RBI fielder's choice from Marshawn Taylor (Grambling State) after five Lexington County led 5-4.
The Fish didn't look back from that point on.
The Bananas and Blowfish went scoreless through three and a half innings but the Fish added insurance in the bottom of the eighth.
Wilhite brought home is second RBI of the night, a single that plated Hogan and then Dalton Duty (Valdosta State) came into score on a throw down to second when he was leading from third.
Heading into the ninth, the Blowfish led 7-4.
Jimmy Townsend-Chase (Western Michigan) went one, two, three through the ninth inning and secured the second straight win for Lexington County.
Townsend-Chase notched his second save of 2017 while Eric Miles (Presbyterian College) recorded his first win of the season (1-1). The Blowfish handed Stevie Powers (Southern Mississippi) his first loss (0-1).
Tomorrow night the Blowfish make up one of their rainouts on the road in Savannah. Coverage on z93.1 The Lake begins at 6:45 and first pitch is set for 7:00.
The Coastal Plain League is the nation's premier summer collegiate baseball league. Celebrating its 22nd season in 2018, the CPL features 16 teams playing in Georgia, North Carolina, South Carolina and Virginia. The CPL has had over 1,450 alumni drafted and 111 of those – including 2011 AL MVP and Cy Young winner Justin Verlander – make their Major League debut; while another notable alum – Russell Wilson – won Super Bowl XLVIII. For more information on the Coastal Plain League, please visit the league website at www.coastalplain.com and follow us via Facebook, Twitter, Instagram and Snapchat @CPLBaseball..
Contact:
Brian Principe
Phone:
803-254-3474