Updated July 12 2017
SAVANNAH, GA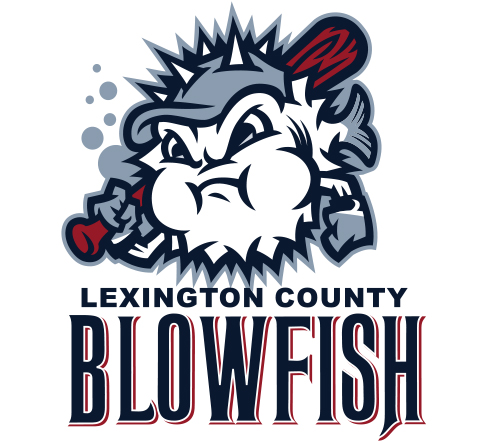 After the All-Star break, Lexington County set their sights on a win on the road at Grayson Stadium. In an abbreviated 7-inning affair, the Blowfish led from start to finish and notched their third win of the second half.
Lexington County held on in the seventh winning 7-5.
The Blowfish got going in the top of the second. An error at second plated two runs to slingshot Lexington County in front 2-0. Then a two run Jared Williams (USC-Lancaster) single extended the Fish lead to 4-0. Lexington County added a run on a steal play at second that allowed a run to come home at third. Blowfish held a 5-0 lead into the third.
Savannah cut into the Blowfish lead in the bottom of the third. The Bananas got a run back on a Matt Pita (VMI) SAC fly that made it 5-1.
The Bananas added two more in the fourth. Anthony Brocato (St. John's) flied a SAC fly to bring in one. Savannah added another on a bases loaded walk but that's all they would get in the fourth.
At 5-3 Lexington County added to their lead in the top of the sixth. Nick Guimbarda (Presbyterian College) plated two on a single back up the middle to give the Blowfish some much-needed insurance heading into the seventh.
In the bottom of the seventh, Savannah would load the bases and get a walk and hit batsman to cut the Blowfish lead back to 2. Coach Jonathan Johnson would turn to Jimmy Townsend-Chase (Western Michigan) to shut the door on the Bananas with one out and bases still loaded.
All Townsend-Chase needed was two pitches to get Utah Jones (North Carolina) to bounce into a huge 6-4-3 double play to end it and secure the win for Lexington County.
The Blowfish overcame 6 errors in the ballgame and worked around the scare in the seventh to notch their third win in the second half and twelfth of the season.
Tomorrow night the Blowfish are back in action, once again on the road, at Sims Legion Park to take on the Gastonia Grizzlies. Coverage on z93.1 FM The Lake begins at 6:45 and first pitch from Gastonia is slated for 7:05.
The Coastal Plain League is the nation's premier summer collegiate baseball league. Celebrating its 22nd season in 2018, the CPL features 16 teams playing in Georgia, North Carolina, South Carolina and Virginia. The CPL has had over 1,450 alumni drafted and 111 of those – including 2011 AL MVP and Cy Young winner Justin Verlander – make their Major League debut; while another notable alum – Russell Wilson – won Super Bowl XLVIII. For more information on the Coastal Plain League, please visit the league website at www.coastalplain.com and follow us via Facebook, Twitter, Instagram and Snapchat @CPLBaseball..
Contact:
Brian Principe
Phone:
803-254-3474