Updated July 29 2017
LEXINGTON COUNTY, S.C.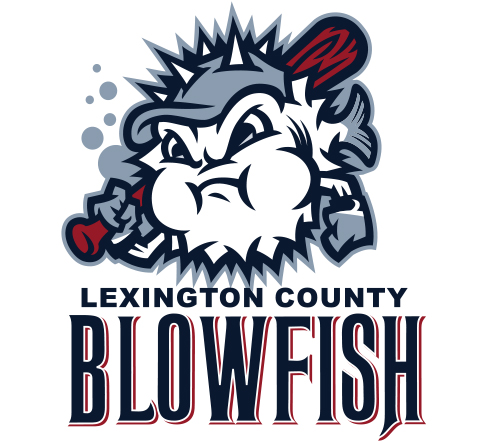 Coming into Saturday night's ballgame, Lexington County was within two games of first place High Point-Thomasville. A win at home against Savannah would mark he team's fifth straight and inch them closer to a playoff spot.
But the Bananas spoiled the party knocking off the Blowfish in comeback fashion 8-5.
Lexington County got the scoring going in the bottom of the first inning. With bases loaded and two outs, Riley Hogan (South Carolina) knocked a two run single to left to give the Blowfish a 2-0 lead.
Savannah answered in the top of the second with a three run inning. LJ Talley (Georgia) knocked a run home on an RBI double and Jacob Southern (Jacksonville) smacked his second home run of the season. His two run bomb have the Bananas a 3-2.
But the rollercoaster ride continued into the bottom of the second. Austin Wilhite (Georgia Tech) tied the game at 3-3 with an RBI ground rule double and then Nick Guimbarda (Presbyterian) gave the Blowfish a two run lead after his two run double.
Savannah cut the Blowfish lead to one run in the fifth and then tied the game in the seventh on a solo home run to dead center by Bryce Fischer (Oklahoma State).
The Blowfish threatened in the seventh inning and had two on both in scoring position with nobody out but failed to score.
The Bananas took the lead in the eighth inning on a high chopping groundout back to the pitcher and added three runs of insurance in the ninth inning to stun Lexington County at home 8-5.
It was the first home loss for the Blowfish since the All-Star Break and snaps their four game winning streak.
The Blowfish are back in action Monday night on the road in Florence to take on the RedWolves. Coverage on z93.1 FM The Lake begins at 6:45 and first pitch from Sparrow Stadium is slated for 7:00 pm.
The Coastal Plain League is the nation's premier summer collegiate baseball league. Celebrating its 22nd season in 2018, the CPL features 16 teams playing in Georgia, North Carolina, South Carolina and Virginia. The CPL has had over 1,450 alumni drafted and 111 of those – including 2011 AL MVP and Cy Young winner Justin Verlander – make their Major League debut; while another notable alum – Russell Wilson – won Super Bowl XLVIII. For more information on the Coastal Plain League, please visit the league website at www.coastalplain.com and follow us via Facebook, Twitter, Instagram and Snapchat @CPLBaseball..
Contact:
Brian Principe
Phone:
803-254-3474