Updated June 28 2017
THOMASVILLE, N.C.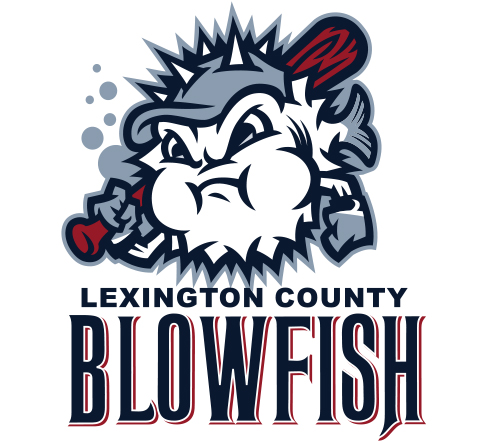 After a 5-4 win in Florence on Tuesday night, the Blowfish looked for their fourth straight win as they set their sights on the High Point-Thomasville HiToms at Finch Field.
The HiToms were on a two game skid and found a way to mute the Blowfish throughout the evening shutting Lexington County out and winning at home 5-0.
High Point-Thomasville got their party started in the bottom of the second when Kip Brandenburg (Spartanburg Methodist College) launched a solo homerun to dead center to give the HiToms a 1-0 lead.
HPT added another in the fourth when Mason McClellan (Columbus State University) clocked the second solo blast to right field that extended the HiTom lead to 2-0.
The Blowfish struggled at the plate all evening, as they were only able to smack two base hits off HPT pitching. Nick Guimbarda (Presbyterian) smacked both of those hits and the only other Blowfish to reach base safely in the game was Drew Ellis (Mt. Olive University) on a walk.
A three run HiTom seventh extended their lead to 5-0. A run came into score on an infield single that the Blowfish ended throwing around the infield for an error. Two more game in on a McClellan two run single.
The Blowfish went down in the eighth and ninth innings and saw their three game winning streak evaporate at the hands of the HiToms.
Lexington County struck out 11 times in the game and have struck out 56 times in their last five ballgames. Clay Young (Catawba) was excellent for HPT notching his first win of the season going seven strong allowing just two hits and striking out nine.
The Blowfish look to reverse their fate tomorrow night at home when they welcome on in the Asheboro Copperheads for the first time in 2017. Coverage on z93.1 FM The Lake will begin at 6:45 and first pitch is slated for 7:05 from the Fish Tank.
The Coastal Plain League is the nation's premier summer collegiate baseball league. Celebrating its 22nd season in 2018, the CPL features 16 teams playing in Georgia, North Carolina, South Carolina and Virginia. The CPL has had over 1,450 alumni drafted and 111 of those – including 2011 AL MVP and Cy Young winner Justin Verlander – make their Major League debut; while another notable alum – Russell Wilson – won Super Bowl XLVIII. For more information on the Coastal Plain League, please visit the league website at www.coastalplain.com and follow us via Facebook, Twitter, Instagram and Snapchat @CPLBaseball..
Contact:
Brian Principe
Phone:
803-254-3474