Updated August 01 2017
MARTINSVILLE, VA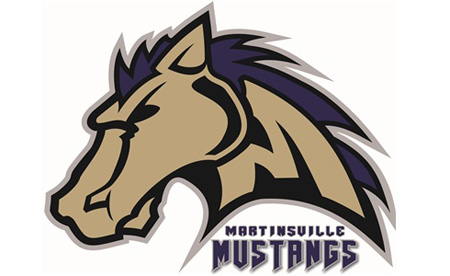 Martinsville and High Point-Thomasville met for the 12th time of the season on what was a beautiful day for baseball at Hooker Field. With the HiToms leading the season series 6-5, the Mustangs were able to even the series behind a grand slam from Matt Berler and a great outing from John Weber on the mound.
The freshman out of Texas made his eighth start of the summer for the Mustangs. In his last outing against the HiToms, Weber allowed five runs and took the loss. It was a different story as the righthander settled in early. After allowing a leadoff double to begin the game, he retired the next 11 batters.
Martinsville Pitching Coach Ryan Vruggink talked about Weber's ability the throw his breaking ball for a strike.
"Everything was electric tonight. It was the best his breaking ball has been all year. He was in the zone a lot and everything was real competitive," he said.
The HiToms sent Nick Silber (1-4) to the hill in what was his last start of the summer. Silber got into trouble early on but was able to work out of some tough jams. The Mustangs left nine men on base through the first four innings.
Martinsville was able to break through in the fifth inning. After a leadoff walk to Lee Sponseller, Silber departed and Nicholas Benedetto took over. The HiToms reliever walked the next two hitters.
High Point-Thomasville went to their bullpen again. Ryan Kahny took over and Muta Crusoe lifted the first pitch he saw into center field. Sponseller tagged up and scored the first run of the game.
Marshall Gei was next and he surprised everyone by dropping a bunt down. Matt Dunlevy raced in to score and Martinsville led 2-0.
That brought in Berler who had two home runs on the season. On a 3-2 count, Berler launched a ball off the scoreboard in left to give Martinsville a 6-0 lead.
"It was just a matter of time before we broke through," Berler said. "We had a bunch good at bats. I was just sticking with my approach, looking away, and reacting on anything. I was just trying to elevate something with guys on base."
That was all the offense that Weber needed as he finished the sixth with two more strikeouts. Weber (3-2) finished with nine strikeouts while allowing just one hit.
"I had a really good changeup today and I wasn't able to get that in the last start," Weber said. "If you just attack the zone, it makes it hard for them to sit on a pitch. In the first inning I got into a couple deep counts but after that everything was smooth and I was able to get what I wanted out there."

In the bottom of the sixth, Martinsville scored a couple of runs to increase their lead. Sponseller led off with a double and later scored on a wild pitch. Crusoe added an RBI single later in the frame and the Mustangs led 8-0.
The HiToms scored four runs in the seventh against Cody Dooley. After seven innings the Mustangs led 8-4.
Chance Pauley tossed a scoreless eighth for Martinsville and Mike Stephens pitched the ninth. The junior from Bucknell allowed a run and High Point-Thomasville loaded the bases but Stephens was able to bare down. The sidearmer induced a 4-6-3 double play to end the game and give Martinsville a 9-5 win.
"Hopefully it just moves them forward," Vruggink said. "We had a lot of good at bats. We have an off day tomorrow so we'll sit on it, then regroup and hopefully get on a little streak to end this thing."
The Mustangs have tomorrow off before hosting Florence on Wednesday at 7:15 PM.
The Coastal Plain League is the nation's premier summer collegiate baseball league. Celebrating its 22nd season in 2018, the CPL features 16 teams playing in Georgia, North Carolina, South Carolina and Virginia. The CPL has had over 1,450 alumni drafted and 111 of those – including 2011 AL MVP and Cy Young winner Justin Verlander – make their Major League debut; while another notable alum – Russell Wilson – won Super Bowl XLVIII. For more information on the Coastal Plain League, please visit the league website at www.coastalplain.com and follow us via Facebook, Twitter, Instagram and Snapchat @CPLBaseball..
Contact:
Nathan Loprete
Phone:
5404244426