Updated March 06 2018
EDENTON, N.C.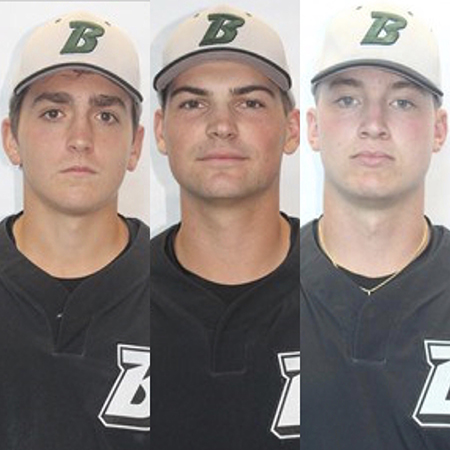 The Edenton Steamers have added three more players to its 2018 roster with all of them coming from the same school.
Justin Drpich, Jake Miller and TJ Wegmann from Binghamton University are all signed to don the Teal and Black for the Steamers this summer.
"I really like what they're doing over there and [I also like] their coaching staff. They have a really good program up there and it's great that there's a pipeline here," said head coach Russ Burroughs.
Binghamton sent two players, Nick Wegmann and Jason Agresti, to the Steamers last summer and both found success in the Coastal Plain League. Wegmann recorded a 4-1 record in 55 innings with a 2.78 earned run average with 56 strikeouts. Agresti smashed seven home runs and 34 runs batted in over 48 games.
So, Coach Burroughs expects the newer Bearcats to fill these shoes and follow in their footsteps to contribute heavily to the team this year.
Drpich, who was a 2017 Freshman All-American, carried a .330 batting average and five round-trippers at third base and will hold down the position with Edenton.
"Last year third base was our Achilles' heel. We wanted to make it a point that we take care of our corners first. We went out and got an All-American to solidify that. Edenton will also help be a part of his growing process," Burroughs said.
"We needed to get the best third baseman we possibly could, so getting him gives me a lot of confidence that I don't have to worry about errors."
Hailing from South Salem, NY, Drpich stands at 6'0" and 195 pounds. He currently has a home run and two doubles through eight games.
Jake Miller, a 6'3" 225-pound right-handed pitcher, will be expected to take on several roles for the Steamers this summer.
"I think Jake will do very well for us as a stopper. We can put him in any situation to get the outs and get it done," Coach Burroughs said. "I think it'll be fun figuring out my lineup with him in the mix. He can wear many hats. He's very versatile and could be a starter, middle man, closer or set up man."
The Mount Laurel, NJ native, now in his sophomore season, has two wins and ten strikeouts in three appearances out of the bullpen. Last year, he went 3-0 with a 3.06 ERA in 17.2 innings.
TJ Wegmann, the younger brother of Nick, will carry on the Wegmann legacy for the Binghamton-Edenton pipeline.
"I had the opportunity to meet TJ a few times last summer," Burroughs said. "I'm very excited to have another Wegmann on the roster this year."
A sophomore catcher from Apalachin, NY, Wegmann will be one of the catchers for the Steamers.
"He has a very high baseball IQ. For his age, he is a little ahead of the curve," Burroughs said.
The 6'0" 190-pounder has a .500 on-base percentage in his first 12 plate appearances of 2018. Wegmann already has three starts behind the plate this season, which is the halfway mark of his total starts as a freshman in 2017.
After adding former Bearcat Reed Gamache as assistant coach this summer and seeing two players stand above the rest last year, the Steamers like the chances of welcoming three more Binghamton players.
Opening Day at Historic Hicks Field is on May 31st, as the Steamers host the Holly Springs Salamanders. Season tickets and ticket packages are on sale now and can be purchased by stopping by the Steamers office, or calling us at (252) 482-4080.
The Edenton Steamers are entering their 21st season as a member of the Coastal Plain League in 2018. Be sure to follow the Teal and Black on social media to stay up to date with all things Steamers.
You can find the team on Facebook @EdentonSteamers, Twitter @EdentonCPL, Instagram @edentonsteamers and Snapchat @edentonsteamers.
For more information visit edentonsteamers.com or call (252) 482-4080.
The Coastal Plain League is the nation's premier summer collegiate baseball league. Celebrating its 22nd season in 2018, the CPL features 16 teams playing in Georgia, North Carolina, South Carolina and Virginia. The CPL has had over 1,450 alumni drafted and 111 of those – including 2011 AL MVP and Cy Young winner Justin Verlander – make their Major League debut; while another notable alum – Russell Wilson – won Super Bowl XLVIII. For more information on the Coastal Plain League, please visit the league website at www.coastalplain.com and follow us via Facebook, Twitter, Instagram and Snapchat @CPLBaseball..
Contact:
PJ Potter
Phone:
(252) 482-4080