Updated July 28 2016
SAVANNAH, GA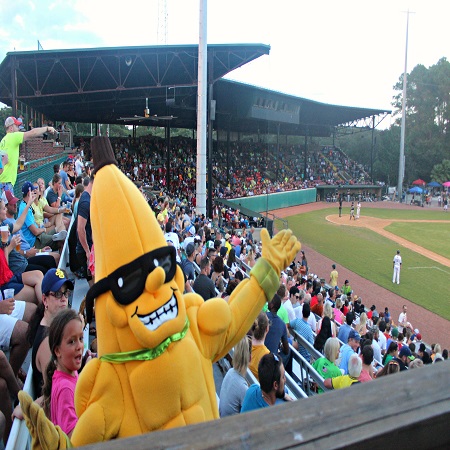 Packed into Historic Grayson Stadium, the thirteenth sell out of the year watched the Bananas win both games of their double header with the Gastonia Grizzlies.
Three different pitchers for the Bananas stifled the Gastonia hitters, yielding just one hit over the seven innings. Garrett Lovorn started for Savannah, going four innings of shut out ball, dancing around six free passes.
The Only run of the game came across in the bottom of the second inning, when Nick Choruby registered a bunt single, advanced to second on an errant throw from pitcher Kyle Dyson. Later in the inning, Connor Stephens cashed him in with a one out RBI single.
Paul Kirkpatrick made his Banana debut, taking over for Lovorn in the fifth, turning in two shut out frames. After Kirkpatrick's two innings of relief, manager Sean West turned to All Star Beau Sulser to close the game out. Sulser registered two strikeouts with the tying run on base to secure the victory 1-0.
In the first inning of game two, the Grizzlies surpassed their hit total of game one, registering two base hits off Banana starter Corey Beard. Beard was able to get Jackson Mimms swinging to escape the early threat, and end the inning unscathed.
Gastonia scored first in game two, cashing in what turned out to be their only run after Rylan Bannon's fielding error at third base.
Savannah struck back, cashing in two runs in the bottom of the third after Jameson Hannah's RBI single. Hannah lined the ball softly to right field, and Clint Hardy came in and scored behind Jeff Nellis after right fielder Taylor Allum uncorked a wild throw attempting to nab Hardy at third base.
The Bananas added some run support in the bottom of the fifth inning, sending 10 men to the plate, scoring four on the back of two sacrifice flies and a Carson Waln RBI single.
This turned out to be more than enough run support for Beard, who notched his third win of the season (3-2) going the distance and allowing just four hits.
The Bananas travel to Lexington County tomorrow before returning home on Friday. Only tickets remaining are for next Thursday's game against Morehead City.
The Coastal Plain League is the nation's premier summer collegiate baseball league. Celebrating its 22nd season in 2018, the CPL features 16 teams playing in Georgia, North Carolina, South Carolina and Virginia. The CPL has had over 1,450 alumni drafted and 111 of those – including 2011 AL MVP and Cy Young winner Justin Verlander – make their Major League debut; while another notable alum – Russell Wilson – won Super Bowl XLVIII. For more information on the Coastal Plain League, please visit the league website at www.coastalplain.com and follow us via Facebook, Twitter, Instagram and Snapchat @CPLBaseball..
Contact:
Jake Young
Phone:
912 712 2482