Updated July 12 2017
SAVANNAH, G.A.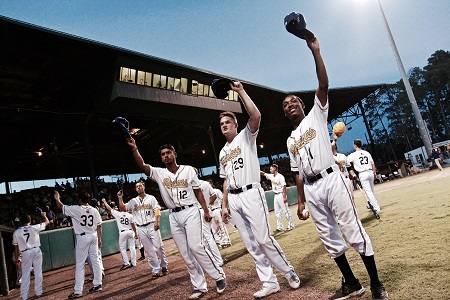 The Savannah Bananas welcomed their 15th straight sold out crowd, but fell short 7-4 against the Lexington County Blowfish.
Lexington County got on the board early, racking up five runs in the second inning off Evan Lovick (Baldwin Wallace).
Kyle Richardson (Texas A&M) came on in relief in the third inning and pitched three shutout innings.
The Bananas plated their first run in the third inning with an RBI single by Matthew Pita (VMI).
In the fourth inning, John Cassala (Jacksonville) singled and then made his way to third on two errors. A sacrifice fly by Anthony Brocato (St. John's University) brought him home to narrow the gap to 5-2. The Bananas loaded up the bases and a walk by Bryce Fischer (Oklahoma State) brought in Utah Jones (UNC).
Lexington County added two more insurance runs in the top of the sixth, bringing the score to 7-3.
The Bananas rallied in the bottom of the seventh with RBIs from Brocato and Fischer to bring the Bananas within two. With the bases loaded, Utah Jones grounded into a double play to end the game.
With the loss, the Blowfish ended the three-game winning streak and seven-game home winning streak for the Bananas.
The Bananas only have three available games remaining in the final few weeks of the season. The next available game is July 17th.
The Coastal Plain League is the nation's premier summer collegiate baseball league. Celebrating its 22nd season in 2018, the CPL features 16 teams playing in Georgia, North Carolina, South Carolina and Virginia. The CPL has had over 1,450 alumni drafted and 111 of those – including 2011 AL MVP and Cy Young winner Justin Verlander – make their Major League debut; while another notable alum – Russell Wilson – won Super Bowl XLVIII. For more information on the Coastal Plain League, please visit the league website at www.coastalplain.com and follow us via Facebook, Twitter, Instagram and Snapchat @CPLBaseball..
Contact:
Liz Bushaw
Phone:
912-712-2482